Bahrain
Bahrain police, protesters clash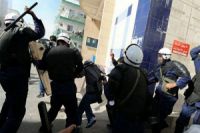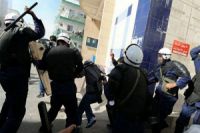 Bahraini police have fired tear gas and birdshot at protesters; following a funeral procession in a Shia village, south of the Capital, Manama.
According to Press TV, the clashes took place in the village of al-Eker outside the capital on Thursday.
Witnesses said more than 100 young men, some throwing petrol bombs, skirmished with the police after the funeral of Hussein Sharaf, a Bahraini who died on Tuesday in an explosion at his home. He died while in hiding after having been sentenced to life in prison in absentia.
Since mid-February 2011, thousands of pro-democracy protesters have held numerous demonstrations on the streets of Bahrain, calling for the Al Khalifa royal family to relinquish power.
On March 14, 2011, troops from Saudi Arabia and the United Arab Emirates invaded the country to assist the Bahraini government in its crackdown on peaceful protesters.
UK-based rights group Amnesty International has voiced concern that Bahraini authorities could be using the anti-government unrest to intensify crackdown on protesters.