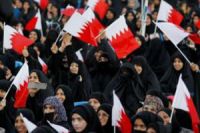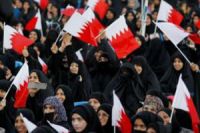 Protesters in Bahrain's eastern town of Sitra are calling for the release of two female prisoners detained earlier this month for participating in protests against Formula One Grand Prix.
According to Press TV, Bahraini security forces detained Reihanna al-Mossawi and Nafissa al-Osfour earlier in April.
The protesters in Sitra chanted slogans against the Al Khalifa regime, carrying Bahrain's national flag.
Bahrainis have held several anti-F1 rallies over the past few weeks, stressing that "as long as there are oppression, arrests and killings, there should not be a Formula One."
On Saturday, Bahraini police announced that they had arrested more than 22 people since February for taking part in anti-regime demonstrations.
This is while the country's main opposition group al-Wefaq, says that 14 people were detained on April 25 and 26 alone and more than 100 have been arrested in anti-regime protests ahead of the auto race.
Formula One is Bahrain's premier international event. Bahrain pays an estimated $40 million a year to host the race. It was cancelled in 2011 as a result of mass anti-regime demonstrations, but it went ahead in 2012 despite protests.