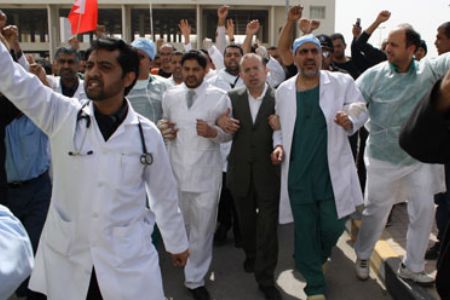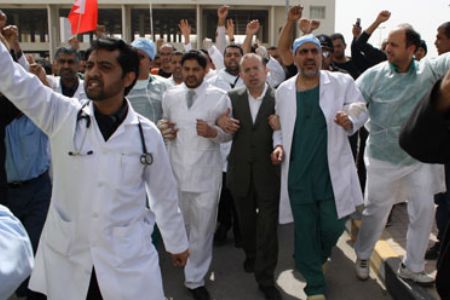 Saudi-backed Bahraini forces have attacked a medical center in the eastern town of Sitra, arresting several people, witnesses say.
It was not immediately clear whether those arrested were injured anti-government protesters or the medical staff.
According to witnesses, Bahraini security forces have also attacked a medical center in A'ali and detained ten medical workers.
The latest attacks came while the Manama regime denies reports by human rights groups that Bahraini authorities have raided hospitals, torturing doctors and injuring anti-government protesters in an effort to quell mass protests.
Human Rights Watch, Doctors Without Borders and Physicians for Human Rights have charged Bahraini security officials with systematic attacks on doctors and patients.
Physicians for Human Rights say doctors and nurses have been detained, tortured or disappeared because they have "evidence of atrocities committed by the authorities, security forces and riot police" in the crackdown on anti-government protesters.
"The excessive use of force against unarmed civilians, patients in hospitals and medical personnel that PHR's investigators documented is extremely troubling and is cause for an immediate international investigation," said Hans Hogrefe, an official of the organization.
Meanwhile, anti-regime demonstrators are set to take to the streets on Wednesday to hold a candle-light vigil for those killed during the government's brutal crackdown on protesters.
More than 30 protesters have been killed and scores of others injured since the uprising began in Bahrain in mid February.
Many journalists, bloggers, doctors, lawyers and opposition activists have also been arrested as part of a widespread crackdown on anti-regime demonstrations.
Protesters, who demand an end to the rule of the Al Khalifa dynasty, have vowed to continue their street rallies until their demands for freedom, constitutional monarchy as well as a proportional voice in the government are met.