Bahrain
Bahraini protesters condemn inauguration of Al Khalifah regime's ambassador to Tel Aviv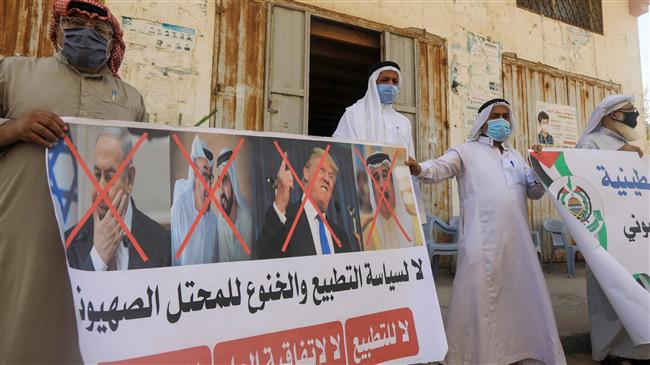 Bahrainis have staged a demonstration in condemnation of normalization of diplomatic ties between the tiny Persian Gulf kingdom and Israel, inauguration of the Al Khalifah regime's first ambassador to the occupied territories, and exchange of envoys between Manama and Tel Aviv regimes.
People took to the streets on Friday evening to condemn Bahraini authorities' warming ties with Israel, chanting slogans such as "Normalization of Relations is Treason" and "We Oppose Normalization."
The protesters voiced solidarity with jailed political activists, and demanded their immediate release.
Zionist regime diplomat Eitan Na'eh was nominated on Thursday as Israel's first ambassador to Bahrain, the same day that Bahrain's first ambassador to Israel Khaled Yousef al-Jalahmah met with foreign minister Yair Lapid in the Knesset and presented him with a copy of his diplomatic credentials.
Na'eh was zionist Israel's first diplomat to take up office in the United Arab Emirates following the latter's US-brokered normalization deal with Israel last year, serving as chargé d'affairs of the Israeli embassy in Abu Dhabi.
In July, Lapid announced his intention to nominate Amir Hayek as Israel's permanent ambassador to the UAE.
Bahraini monarch Hamad bin Issa Al Khalifah on June 29 officially appointed the Persian Gulf kingdom's first ambassador to Israel.
Zionist Israel's foreign ministry signed off on al-Jalahmah's appointment in March. 
Hamas condemns Bahrain
The Palestinian resistance movement Hamas said Bahrain has actually demonstrated its complicity in crimes committed by the Israeli regime against the Palestinians by appointing its first ambassador to Israel.
"The appointment of an ambassador of the Bahraini regime to the Zionist entity reflects its insistence on the national sin that it committed when it signed the normalization agreement with the occupation," Hamas spokesman Hazem Qassem said.