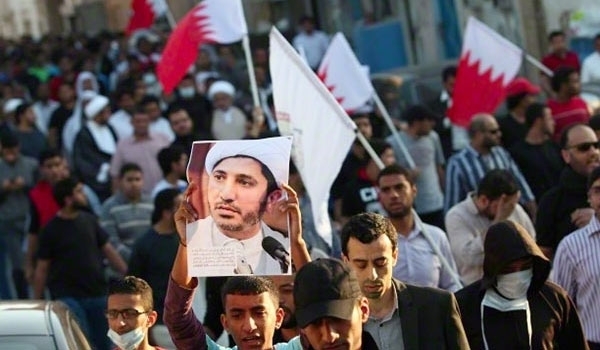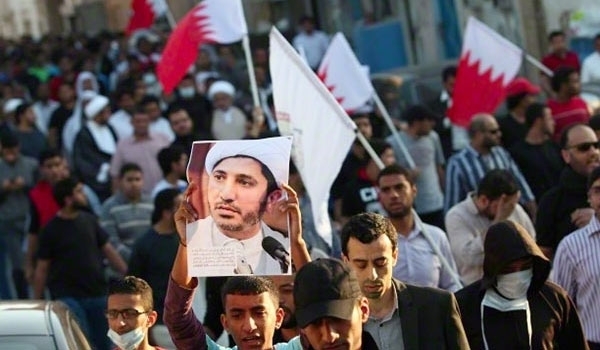 Bahrainis demonstrated across the tiny Persian Gulf country in condemnation of the continued detention of Sheikh Ali Salman, the secretary general of the al-Wefaq National Islamic Society.
Protesters staged nationwide rallies, including in the village of Diraz, located West of the capital, Manama, following Friday prayers, demanding the release of Salman, the 49-year-old secretary general of the al-Wefaq National Islamic Society, Bahrain's main opposition bloc.
The marchers, carrying portraits of Salman and Bahrain's national flags, also urged equality and social justice for the entire Bahraini nation as well as an end to discrimination and violations of human rights.
They also expressed solidarity with political prisoners and jailed activists.
The demonstrators, commemorating the international Workers' Day, called upon the Al Khalifa regime to return all those dismissed from their jobs for political reasons back to work.
Salman was detained last December on charges including seeking regime change and collaborating with foreign powers. He denied the charges during his first court hearing on January 28.
His arrest has triggered condemnation inside and outside Bahrain, with leaders, governments and international organizations across the world calling for his immediate release.
Salman's trial, initially scheduled for April 22, has been adjourned until May 20.
Additionally, protesters formed a human chain in the village of Abu Sabi' to express outrage over the Al Khalifa regime's heavy-handed measures in dealing with political activists.
Anti-government protesters have been holding peaceful demonstrations across Bahrain since mid-February 2011, calling for an end to the al-Khalifa dynasty.
Violence against the defenseless people escalated after a Saudi-led conglomerate of police, security and military forces from the Persian Gulf Cooperation Council (PGCC) member states – Saudi Arabia, Kuwait, the United Arab Emirates, Oman and Qatar – were dispatched to the tiny Persian Gulf kingdom on March 2011, to help Manama crack down on peaceful protestors.
So far, tens of protesters have been killed, hundreds have gone missing and thousands of others have been injured.