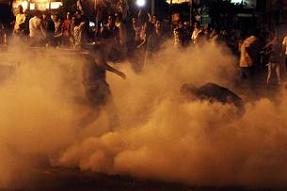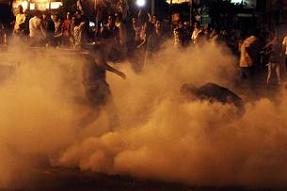 Bahraini security forces attacked Ashura processions in eastern Manama, injuring several people.
Many people were wounded as security forces used fissionable bullets and tear gas bombs to disperse people taking part in Ashura ceremonies in Muharraq and Arad, east of the capital.
Security forces also attacked consolation gatherings for women causing panic for children and mothers.
For its part, prominent opposition figure, al-Wefaq, said the authorities were responsible for the attack, saying it was deliberately targeting Ashura rituals.
The party also assured that these circumstances "are enough to say that the government isn't able to continue".
On the other hand, High Cleric Shiekh Issa Qasem said that Gulf States exclude themselves when they call for the fall of other regimes.
During Friday speech, Shiekh Qasem rejected any committee "under any glittering name", in reference to the investigation committee which was formed by the regime to probe the brutal crackdown on anti-government protesters last mid-March.
He also considered the forming of this committee "doesn't mean anything but crisis' postponement and complicating".