Bahrain
Bahraini regime spending $95mln annually to suppress protesters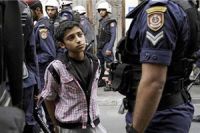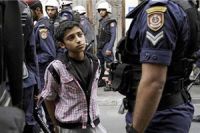 A recent report revealed that the crack down on peaceful anti-regime protests in Bahrain costs the ruling Al Khalifa regime nearly 95 million dollars per year.
According to Bahraini al-Maidan Newspaper, the Bahraini regime uses 21,000 security forces to contain anti-regime protests on a daily basis.
The report also said Manama regime spent over 2.5 billion dollars on arms purchases since 2011, when the popular uprising broke out in the Persian Gulf country.
Since mid-February 2011, thousands of pro-democracy protesters have held numerous demonstrations in the streets of Bahrain, calling for the Al Khalifa royal family to relinquish power.
On March 14, 2011, troops from Saudi Arabia and the United Arab Emirates invaded the country to assist the Bahraini government in its crack down on peaceful protesters.
Scores of people have been martyred and many others put behind the bars as part of the Saudi-led crackdown on anti-regime protesters since then.