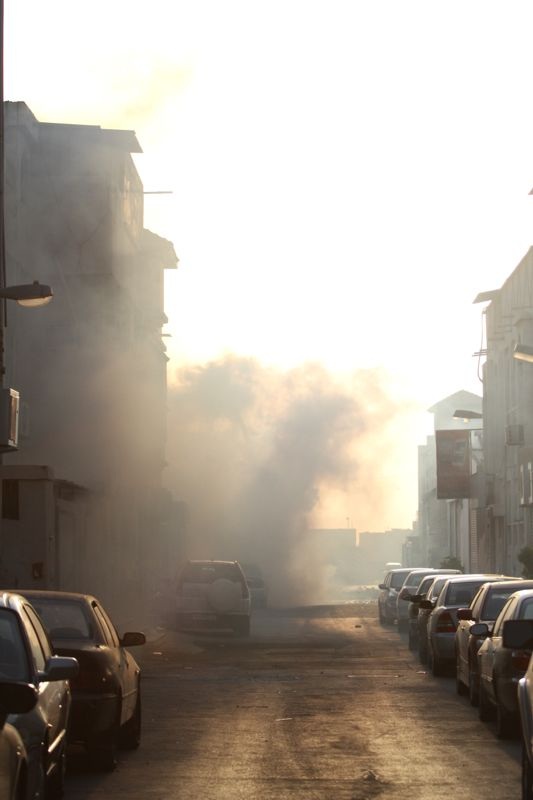 Protests in solidarity with the holy al-Quds swept Bahrain on Friday despite the regime's repression which had injured several people.Bahrain rallies in al-Quds day
Security forces fired on Friday teargas and the internationally-banned gunshot bullet at protesters who gathered in several regions across the country in al-Quds day.
The residential area of Sar, in the country's center, witnessed at the morning a protest in which Palestinian and Bahraini flags were raised. Several protesters were injured in the demo where security forces fired teargas and gunshot bullets.
The same scene was repeated in the region of Nuwaidrat, south of the capital, where security forces fired teargas.Bahraini security forces fired teargas at protesters in al-Quds day
Later on, following Friday prayers, crowds took to streets in the areas of Juffair, Sahla, Malkiya, Dair, Jablat Habashi, Karzakan, Sitra island, Diraz and other areas. These rallies were called for by February 14 Youth coalition and other movements.
The protests statement stressed that al-Quds remains in the minds and the hearts of the free people, adding that it stays the central issue for the Arab and the Muslim world.
The statement noted that the Bahraini people took out to streets in al-Quds day, despite the oppression, repression and crimes committed by the Bahraini regime in order to stress that al-Quds issue can't stay away of these people's minds, in any event.