Bahrain
Bahrainis hold anti-regime protests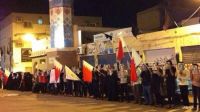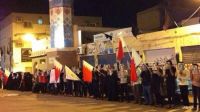 Bahrainis have held anti-regime demonstrations in the villages of Sanabis and Nuwaidrat, and the island of Sitra.
According to Press TV, in Sanabis, demonstrators formed a human chain to denounce the ongoing human rights violations in Bahrain.
In Nuwaidrat, clashes broke out between regime forces and protesters.
The main Bahraini opposition group, al-Wefaq, issued a statement condemning the "continuing arrests, political trial and discrimination" against the Shia majority in the country.
Wefaq also slammed the Al Khalifa regime for failing to implement the recommendations of the Bahrain Independent Commission of Inquiry (BICI), which was tasked with investigating the crackdown on protests in February and March 2011.
The uprising in Bahrain began in early 2011.
The Manama regime has crushed protests. Scores of people have been martyred and many more have been injured.