Bahrain
Bahrainis hold fresh protest in Manama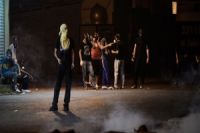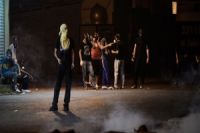 Saudi-backed security forces in Bahrain have clashed with anti-regime protesters, who once again took to the streets to denounce the ruling Al Khalifa regime.
On Monday, the demonstrators in a western suburb of the capital Manama chanted slogans against the Al Khalifa regime.
On Saturday, Bahraini riot police fired shots and used tear gas to disperse hundreds of anti-regime protesters marching in the village of Sanabis, west of Manama, after the funeral of Yussef al-Nashmi, who died on October 11 after spending almost a month in custody.
Regime forces clashed with the demonstrators, reportedly making a number of arrests and injuring several others. A protester, identified as Abdullah Yassin, was hit by shotgun pellets and critically injured.
Since mid-February 2011, thousands of pro-democracy protesters have staged numerous demonstrations in the streets of Bahrain, calling for the Al Khalifa royal family to relinquish power.
On March 14, 2011, troops from Saudi Arabia and the United Arab Emirates invaded the country to assist the Bahraini government in its crackdown on the peaceful protesters.
According to local sources, scores of people have been martyred and hundreds arrested.