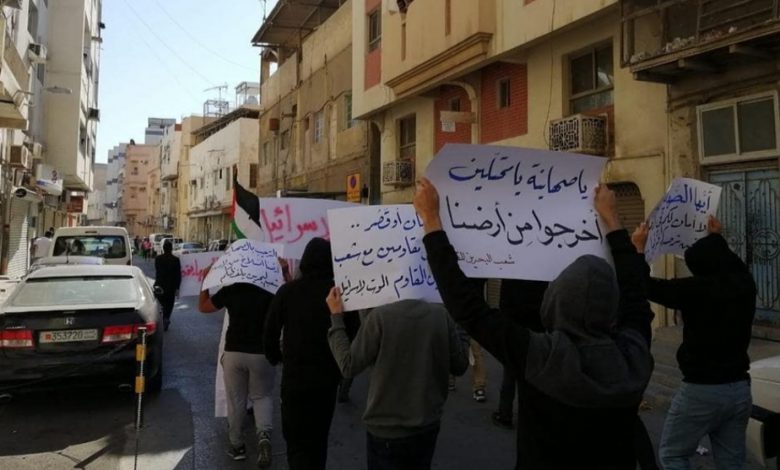 People in Bahrain have taken to the streets to denounce the appointment of an Israeli chargé d'affaires to the country and the normalization of ties with the Tel Aviv regime.
Protesters staged rallies across Bahrain on Friday to express their support for the Palestinian people.
Banners were carried reading "Zionist occupiers, you have no place in our land!" and "We will throw you out."
The development came after the Israeli foreign ministry said in a post on its Arabic-language Twitter account thatItay Tagner had been appointed as the Israeli chargé d'affairs to Bahrain and that he had met with Bahraini Foreign Minister Khalid bin Ahmed Al Khalifah.
Bahrain normalized relations with the Israeli regime last year. But Tel Aviv was already believed to have been running a secret diplomatic mission in the Arab country for more than a decade through a front company listed as a commercial consulting firm.
Bahrain was the second Arab government to normalize ties with the Tel Aviv regime. The United Arab Emirates normalized its own ties earlier last year, and Bahrain, Sudan, and Morocco followed suit later.
The normalization deals drew condemnation from all Palestinian factions and people, who seek an independent state in the Israeli-occupied West Bank and the Israeli-blockaded Gaza Strip, with East Jerusalem al-Quds as its capital. The Palestinians say the deals ignored their rights and exposed the Arab regimes' lies about backing the Palestinian cause against Israeli occupation.
In Bahrain, several angry street protests have been held against the normalization deal with Israel, slamming the regime in Manama for turning a deaf ear to the nation's calls against establishing relations with the occupiers of Palestine.