Bahrain
Bahrainis sentenced to long jail terms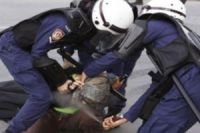 A Bahraini court has sentenced four anti-regime protesters to life in prison and a fifth person to 10 years in prison amid the ongoing harsh crackdown on the country's dissent.
According to Press TV quoting local media on Monday, the Bahraini defendants were found guilty of "blowing up a car" in November 2013 "to disrupt a Formula 1 race" in the country. Bahrain has held an annual Grand Prix race since 2011.
They were also found guilty of "making and possessing explosives, detonating explosives, and stealing a car with the aim of carrying out a terrorist act."
The bombing reportedly occurred near a financial center in the Bahraini capital Manama. No one was injured or killed in the incident.
Earlier in May, a Bahraini court sentenced 12 anti-regime protesters to long prison terms of up to 15 years. The 12 young men were reportedly charged on May 7 with "attacking" the regime's Saudi-backed security forces during anti-government protest rallies in two villages of the Persian Gulf state.
The country's main opposition bloc al-Wefaq National Islamic Society described the sentences as "vengeful and oppressive."