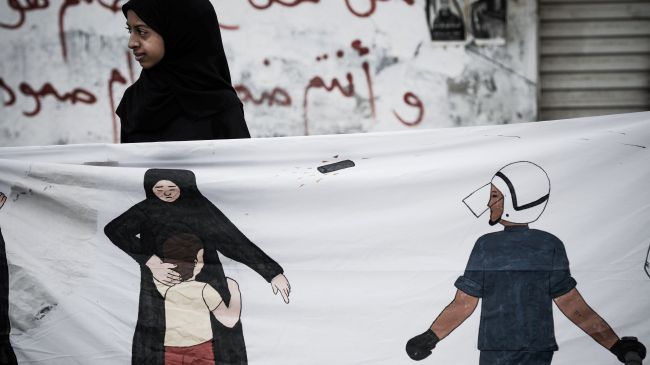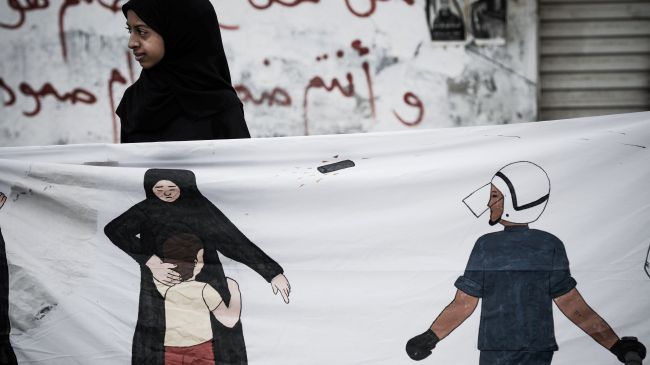 People have taken to streets in the Bahraini capital to protest against the ruling Al Khalifa regime.
On Monday, anti-regime demonstrators blocked a road in Manama by burning trash bins to protest against the Bahraini regime.
The protesters also voiced their anger over the arrest of prominent senior Shia cleric Nimr al-Nimr in Saudi Arabia, and also condemned the upcoming Bahrain Formula One Grand Prix.
On March 28, a Saudi prosecutor reportedly demanded the death penalty for Sheikh Nimr al-Nimr, accusing him of "aiding terrorists" and "instigating unrest" in Saudi Arabia.
Sheikh Nimr was attacked, injured and arrested by Saudi security forces en route to his house in Qatif, Eastern Province, on July 8, 2012.
Since mid-February 2011, thousands of pro-democracy protesters have staged numerous demonstrations in the streets of Bahrain, calling for the Al Khalifa royal family to relinquish power.
On March 14, 2011, troops from Saudi Arabia and the United Arab Emirates invaded the country to assist the Bahraini government in its crackdown on the peaceful protesters.
According to local sources, scores of people have been killed and hundreds arrested.
Physicians for Human Rights says doctors and nurses have been detained, tortured, or disappeared because they have "evidence of atrocities committed by the authorities, security forces, and riot police" in the crackdown on anti-government protesters.