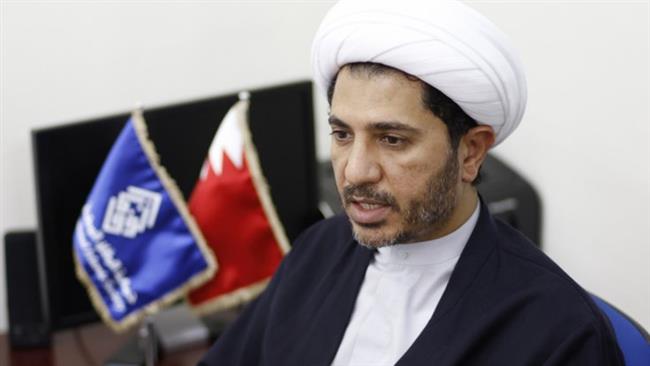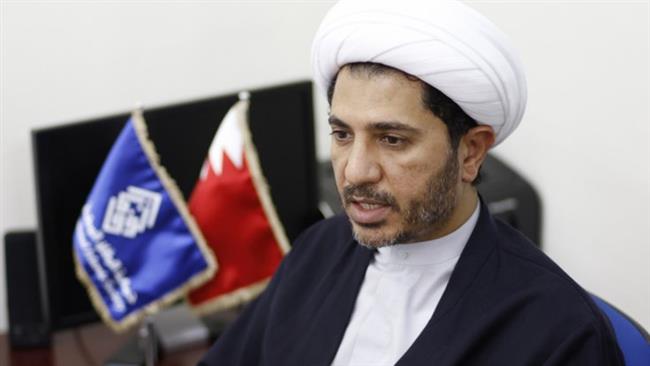 The jailed secretary general of Bahrain's main opposition bloc, al-Wefaq, has urged Bahrainis to press ahead with their protests for reforms.
In a message released following a court ruling against him, Sheikh Ali Salman said he will press ahead with his peaceful drive to restore the rights of people, calling on the Bahrainis to continue staging demonstrations in a bid to realize their demands in the tiny Persian Gulf kingdom.
On Tuesday, a Bahraini court sentenced 49-year-old Salman to four years in prison on charges such as insulting the Interior Ministry and inciting others to break the law. He was acquitted of seeking regime change.
Meanwhile, Amnesty International has censured the latest verdict against the prominent Bahraini opposition leader, stating that it demonstrates the Al Khalifa regime's consistent disregard for the right to freedom of expression.
"The verdict is shocking. It is yet another clear example of Bahrain's flagrant disregard for its international obligations. Sheikh Ali Salman has been sentenced solely for peacefully expressing his opinion," Boumedouha, the deputy director of the Middle East and North Africa Program at Amnesty International, said on Tuesday.
Bahraini protesters hold placards portraying Sheikh Ali Salman, the head of the opposition bloc al-Wefaq National Islamic Society, and Bahrain's national flags during a demonstration against his arrest, Bilad al-Qadeem suburb of the capital, Manama, on June 16, 2015.
He added, "For a country that has expressed outrage at criticism of its human rights records, Bahrain has not hesitated to suppress political opposition and muzzle critical voices at every opportunity. The authorities must release Sheikh Ali Salman immediately and unconditionally, and ensure his conviction is quashed."
Hundreds of protesters also took to the streets across Bahrain on Tuesday in a show of protest against Salman's verdict. They held rallies in Bilad al-Qadeem suburb of the capital, Manama, the villages of al-Musalla, Karrana, Malkiya and al-Dair as well as Sitra Island.
Bahraini regime forces detained Salman on December 28, 2014 and brought charges of "attempting to overthrow the incumbent regime and collaboration with foreign powers" against him. He has strongly rejected the charges, underscoring that he has been seeking reforms in the Arab country through peaceful means.
On June 5, the Office of the UN High Commission for Human Rights (OHCHR) renewed calls on the Manama regime to immediately release the al-Wefaq leader.
Anti-regime protests are being held almost on daily basis on the streets of Bahrain since mid-February 2011, calling for the Al Khalifa family to relinquish power.
Scores of Bahrainis have been killed and hundreds of others injured because of the ongoing heavy-handed crackdown on peaceful demonstrations.