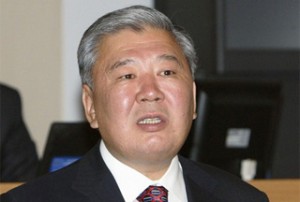 Kyrgyzstan's troubled president has denied any US or Russian involvement in the recent turmoil that has engulfed the Central Asian country's political structure.
President Kurmanbek Bakiyev had earlier insisted that foreign hands had helped the opposition's recent seizure of control.
It is "virtually impossible to conduct such a coordinated operation" without outside forces, he told Russia's Echo of Moscow radio station on Thursday. At least 75 people died and more than 1,500 were injured on Wednesday in the unease and bloodshed that ended up in the fall of the government.
On Friday, though, Bakiyev said, "I do not believe that Russia or the United States of America had a hand in these issues," AFP reported.
The United States has been running the Manas airbase on the Kyrgyz soil, which forms a premier hub for its so-called counterinsurgency operations in Afghanistan. The airbase has produced controversy amid reports of the murder of a Kyrgyz national by the US soldiers.
Russia also maintains an airbase at Kant, just 20 miles from Manas competing with US military presence in the region.