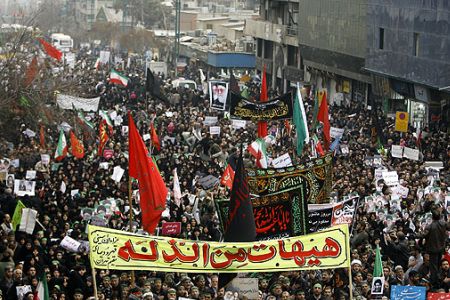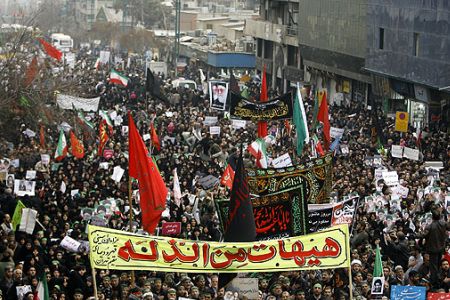 Azerbaijan's move to arrest 25 Azeri demonstrators in the Quds Day rally indicates the "anti-Islamic approach" adopted by the Baku government, a Middle East expert says.
The arrests were made during the Quds Day rally on Friday, when the demonstrators gathered in front of the Israeli Embassy, called for its closure and demanded all political and economic ties with Tel Aviv be severed.
The head of the Islamic Party of Azerbaijan Republic Mohsen Samadov and a number of prominent Muslim activists were among those arrested, Alalam reported.
These protests show that Israel has not been able to gain the sympathy of Azerbaijani people despite its large investments and cooperation with Baku's government, Saadollah Zarei said on Saturday.
According to UN statistics, between 1997 and 2004, exports from Azerbaijan to Israel increased from just over USD 2 million to USD 323 million.
Over the past few years, Israel has leased tens of hectares of lands in southern Azerbaijan, alongside Iran's borders, saying it aims to develop agricultural activities.
Given the Israel's history in occupying and annexing Palestinian territories, however; the move has worried the Azeri villagers.
Zarei described Baku's actions as "the obvious sign of Ilham Aliyev government's anti-Islamism."
"The secular government of President Ilham Aliyev has closed down 3 mosques and destroyed 3 others ones over the past year," he was quoted by Fars news as saying.
Zarei pointed to the attempts to demolish the Fatemeh Zahra mosque and said, "During the past few months the Azerbaijani government has been waiting for an opportunity to deal a blow to Muslim — especially Shia — communities."
In 2009, Baku's Second Economic Court ordered Fatemeh Zahra Mosque to be demolished. However, the destruction was halted due to the massive protests of Azeri Muslims.