Latin America
Baltimore protesters were from 'out of town': US congressman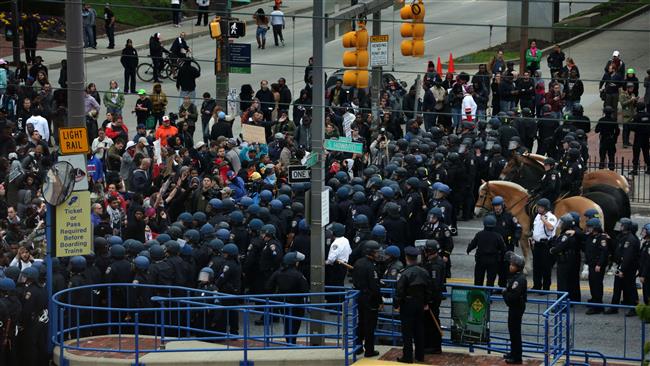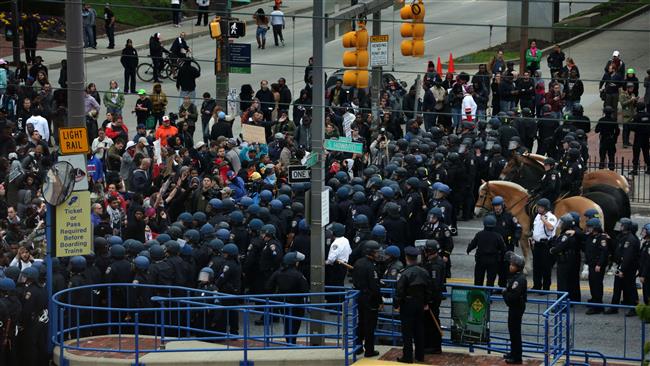 US Congressman Elijah Cummings has alleged that protesters against police brutality in Baltimore, Maryland were not from the city and they were from "out of town."
"I was there all day, and it was very peaceful all day," Rep. Cummings said on Sunday.
"At the end, there were a few people that said, 'We're gonna turn this city down, we're gonna close it down.' And the next thing you know we had a few people – mainly from out of town – to come and to start beating up on police cars and throwing all kinds of projectiles," he told CBS.
Thousands of people came to the streets in the city on Saturday and Sunday to protest against the police killing of 25-year-old black man Freddie Gray.
The demonstrators and police officers clashed during the protests.
Fredricka Gray
Gray was killed one week after he was seriously injured while being arrested by the Baltimore Police Department on April 12.
He was detained when he made eye contact with officers and ran away. Police officers then handcuffed him and put him into a police van.
The black man asked for medical help several times and paramedics were called after a 30-minute ride that included three stops. He suffered a spinal injury during his arrest or inside the van.
Dozens of people were arrested and six police officers were injured during the latest protest in the city, according to Baltimore police.
Meanwhile, Fredricka, who is the black man's twin sister, called on protesters to be calm.
"My family wants to say, can you all please, please stop the violence?" she said. "Freddie Gray would not want this. Freddie's father and mother did not want nobody… Violence does not get justice."