Syria
Ban receives report on chemical weapons attack in Syria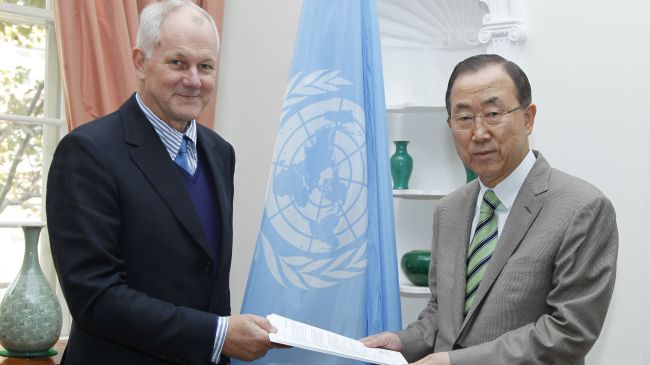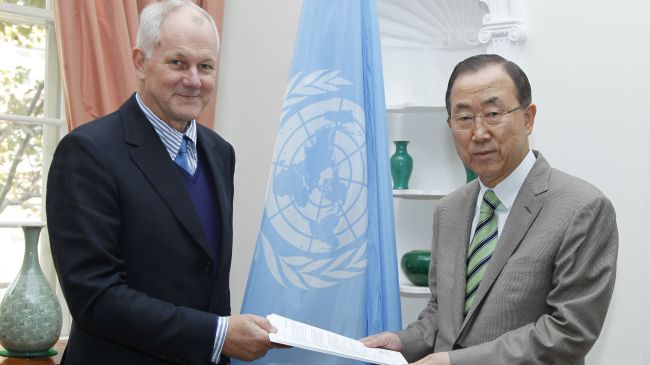 United Nations Secretary-General Ban Ki-moon has received a report by UN experts on a chemical weapons attack that allegedly killed hundreds of people in the suburbs of Damascus last month.
UN spokesman Martin Nesirky said on Sunday that Ban will brief the UN Security Council on the findings on Monday morning.
"The report by the United Nations Mission to Investigate Allegations of the Use of Chemical Weapons in the Syrian Arab Republic has been turned over to the secretary general," Nesirky said.
"It was transmitted today, September 15, to the secretary general by Professor Ake Sellstrom, the head of the mission, and the secretary general will provide it to the member states tomorrow morning," the spokesman said.
"On Monday morning, the secretary general will brief the Security Council on the report during its closed consultations," he added.
The war rhetoric against Syria intensified after foreign-backed opposition forces accused the government of President Bashar al-Assad of launching a chemical attack on militant strongholds in the suburbs of Damascus on August 21.
Damascus has vehemently denied the accusations, saying the attack was carried out by the militants themselves as a false-flag operation.
On September 10, Syrian Foreign Minister Walid al-Muallem said Damascus is ready to implement a Russian proposal to place its chemical weapons arsenal under international control.
The Russian government proposed the initiative during a meeting between Russian Foreign Minister Sergei Lavrov and Muallem in Moscow on September 9.
"We want to join the convention on the prohibition of chemical weapons. We are ready to observe our obligations in accordance with that convention, including providing all information about these weapons," Muallem said.
In response, US President Barack Obama asked Congress to delay a vote on authorizing military action against Syria in order to give the Russian proposal a chance to play out.
On September 3, the UN secretary general said that only the Security Council can authorize any use of force against Syria over the alleged chemical weapons attack.
"As I have repeatedly said, the Security Council has primary responsibility for international peace and security," Ban Ki-moon told reporters at the UN headquarters in New York.
"The use of force is lawful only when in exercise of self-defense in accordance with article 51 of the United Nations Charter and or when the Security Council approves such action," Ban said in remarks that appeared to challenge the legality of US plans to launch a military offensive against Syria without a UN mandate.