Iraq
Ban to Review Saudi Support for Terrorism in UNSC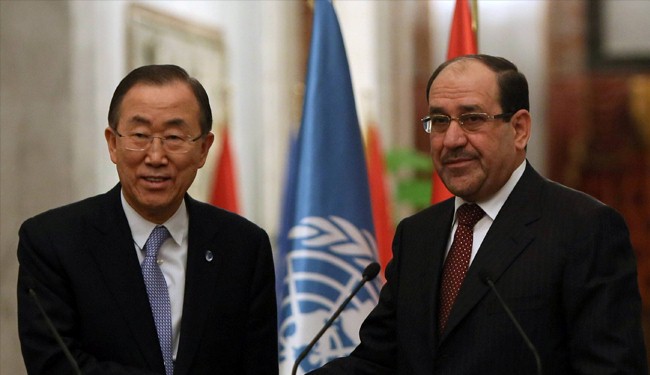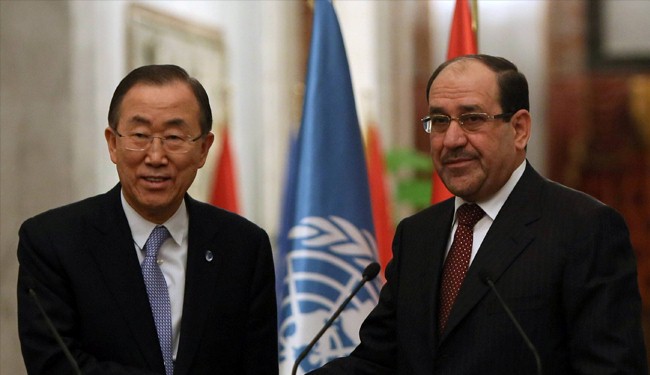 The United Nations Secretary-General Ban Ki-moon is considering reviewing reports of Saudi Arabia's support to terrorist groups in Iraq with the Security Council, Iranian Al-Alam website reported.
According to Arabic Russia Today, Ban touched on the issue during his talks with Iraqi Prime Minister Nouri al-Maliki in the Iraqi capital, Baghdad.
Ban arrived in Baghdad on Monday for a two-day visit.
The UN secretary general also expressed concern over the rising violence in Iraq's western province of Anbar.
He urged the Iraqi leaders to address the "root causes" of the surge in bloodshed in the province.
"They should ensure that there is nobody left behind," he said.
"There should be political cohesion" and "social cohesion, and political dialogue, inclusive dialogue," Ban added.
Fighting continues between Iraqi security forces and militants from the al-Qaeda-affiliated Islamic State of Iraq and the Levant (ISIL) in Anbar.
The violence erupted on December 30, 2013, when the Iraqi army removed an anti-government protest camp in the city of Ramadi. Authorities said the camp was used as "headquarters for the leadership of al-Qaeda" terrorist organization.
According to Iraqi media reports, a terrorist member arrested in the country has confessed that Saudi Arabia is providing financial aid to al-Qaeda-linked militants fighting the Iraqi army.