Palestine
Ban Visits Gaza Strip: Destruction beyond Description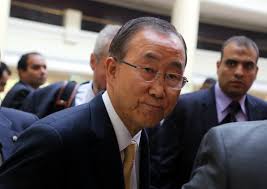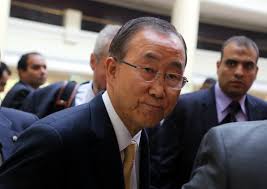 United Nations Chief Ban Ki-moon made a brief visit Tuesday to the besieged Gaza strip which witnessed a 50-day Israeli offensive in July and August.
Ban's visit comes two days after donor states pledged $5.4 billion in aid to rebuild it after a devastating Israeli offensive.
Ban Ki-moonHe was driven through the ruins of Gaza City's Shejaiya neighbourhood and the nearby Jabaliya refugee camp, the scenes of some of the heaviest Israeli massacres in this summer's assault.
Tens of thousands of Palestinians were displaced by the destruction, and on Tuesday people camping outside their ravaged homes were seen waving at the convoy of white UN vehicles as it passed.
After meeting members of the newly convened Palestinian consensus government, Ban told reporters that the devastation he had seen was far worse than that caused in the previous Israeli offensive of winter 2008-2009.
"The destruction which I have seen while coming to here is beyond description. This is a much more serious destruction than what I saw in 2009.
"I'd like to take this opportunity to express my deepest condolences to people who lost their lives and also to families who lost their loved ones," Ban said.
Ban, who last visited the territory in 2012, said at a donor conference in Egypt on Sunday that his trip to the Palestinian enclave was "to listen directly to the people of Gaza".
He said that international pledges of $5.4 billion (4.3 billion euros) in reconstruction aid were "quite encouraging".
Donations include $1 billion from Qatar, $212 million from the US and 450 million euros from the EU.