Palestine
Bandit Israeli regime issues decision to close al-Aqsa Mosque's Bab al-Rahma prayer area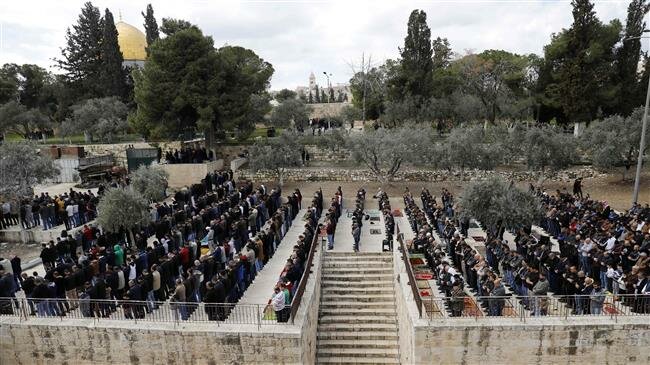 An Israeli regime zionist court has ordered the temporary closure of Bab al-Rahma (Gate of Mercy) prayer area at the al-Aqsa Mosque compound in the Old City of Jerusalem al-Quds amid recent tensions surrounding the highly sensitive holy site.
The Jerusalem al-Quds Magistrate's Court announced on Sunday that it had accepted a request by Israeli officials to close the gate while the case continues.
The Islamic Waqf (Endowment) Organization, which manages the compound's affairs, was also granted 60 days to appeal the decision.
Hatem Abdel Qader, a member of the Waqf Council, said the council does not recognize the Israeli court's decision regarding Bab al-Rahma, and that it is an integral part of the al-Aqsa Mosque compound.
The Waqf said in a statement on Saturday that it wants to carry out renovations at the building, but will keep it open during that time for Palestinians who wish to pray there.
It further noted that far-right Israeli settlers were seeking to take over Bab al-Rahma.
Prayer area of the al-Rahma Gate was closed on February 25 upon an order by Israeli Prime Minister Benjamin Netanyahu, and reopened the following day.
Israel had closed the gate that leads to the prayer space in al-Aqsa Mosque since 2003 in the face of the Second Intifada (uprising) against the regime's occupation.
On February 22, however, the Waqf council decided to re-open the prayer space at the Bab al-Rahma Gate in defiance of Israel's 16-year-old ban. Hundreds of worshipers, led by the Grand Mufti of Jerusalem al-Quds Sheikh Mohammad Hussein, entered the area for the first time since 2003 for Friday prayers.
Angered by the move, the Tel Aviv regime launched an arrest campaign against Palestinians.
The arrests drew criticisms from Palestinians and Jordan, which is the custodian of the holy sites in occupied Jerusalem al-Quds.
The Islamic Waqf organizations and Palestinian institutions have insisted on keeping the Bab al-Rahma prayer area open for Muslim worship.
Palestinians have repeatedly warned of Israeli attempts to change the status quo of the al-Aqsa compound, the third holiest site in Islam.