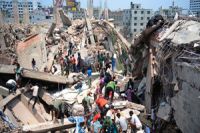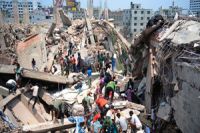 The death toll from a disastrous factory building collapse in Bangladesh has reached 1,000.
According to AFP, the Bangladeshi Army spokesman Captain Shahnewaz Zakaria said on Friday that the "death toll now stands at 1,000."
The death toll in Bangladesh's worst industrial disaster soared after more bodies were found in the rubble of a collapsed nine-storey building outside the capital Dhaka.
The shoddily-constructed structure where low-cost garments were made fell on April 24. More than 3,000 people, mainly young women workers, were in the building at the time of the collapse.
Police officials say the factory owners had ignored warnings against allowing workers into the building after deep cracks were detected in the walls the day before the collapse.
Nearly 2,500 people have been rescued from the building. However, officials say there is no clear indication as to how many bodies remain under the rubble.
Authorities say many of the bodies found must be sent to a lab for DNA testing in order to be identified.
Bangladesh police have arrested 12 people, including four garment factory owners, over allegations of forcing people to work on April 24.
Factory workers have held demonstrations following the incident, calling for tough punishment for those responsible for the tragedy. They have also demanded better workplace safety regulations.