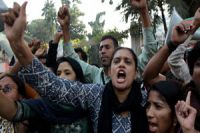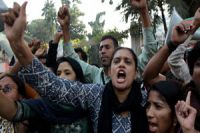 Fresh clashes have erupted outside the Bangladeshi capital, Dhaka between police and garment workers protesting over the recent deaths of 121 people in the country's worst clothing factory inferno.
According to AFP, protests entered a second week on Monday when thousands of workers took to the streets of Ashulia, a manufacturing hub outside Dhaka, to demand better working conditions and safety in garment factories in the country.
Industrial police deputy director Moktar Ali said "There were around 10,000 workers. They barricaded a road at Ashulia and attacked some vehicles and factories."
He added that a false rumor about another deadly fire in a garment factory sparked the latest protests.
Police used rubber bullets and tear gas to disperse the angry demonstrators.
Ali went on to say that 50 factories have been closed over the fear of further attacks and vandalism.
On November 24, the blaze in a garment factory in Ashulia claimed the lives of around 121 people, mostly women paid as little as 37 dollars a month.