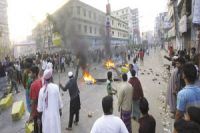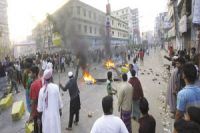 The death toll in violence across Bangladesh, following dispute over electoral system, rose to six even as the country braced for a 60-hour opposition strike on Sunday, calling for a neutral caretaker government to oversee the next general elections.
The media reports said at least six people were killed and some 300 others injured when fierce clashes erupted across the country on Friday, as main opposition Bangladesh Nationalist Party (BNP) staged a massive protest in Dhaka demanding installation of a non-party interim government.
Police and witnesses said BNP's ally Jamaat-e-Islami activists joined the protests demanding release of their detained leaders who were convicted or awaiting judgement for crimes against humanity during the 1971 liberation war.
Three deaths were reported from central Chandpur, where the opposition on Saturday enforced a day-long strike protesting police actions while two opposition activists were killed in south-eastern Cox Bazar and the rest of the casualty was reported from north-western Nilphamari district.
BNP chief Khaleda Zia issued an ultimatum to Prime Minister Sheikh Hasina to initiate talks on her demand. The former prime minister said if the demand was not accepted, the party would enforce a 60-hour nationwide strike from Sunday.