Iraq
Barking at the Wrong Tree: Who Liberated Iraqi Town of Amerli?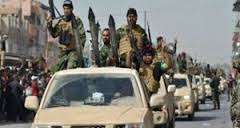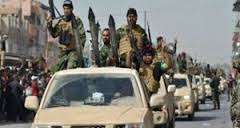 The masked psychopaths of ISIL have released a new video purporting to show the beheading of a second American hostage, journalist Steven Sotloff. In the video, the executioner seems to be the same British-accented man who appeared in an Aug. 19 video of the killing of American journalist James Foley.
Shown in a similar desert setting (shot suspiciously in Syria), the masked psychopath says, "I'm back, Obama, and I'm back because of your arrogant foreign policy towards the Islamic State, because of your insistence on continuing your bombings in Amerli, Zumar and the Mosul Dam, despite our serious warnings."
Just like the mad man, Western media outlets (which continue to ignore the virtual library of videos and other imagery the US generated under the rubric of war on terror – with no less horror than ISIL's "PR" imagery) are likewise under the illusion that the Iraqi town of Amerli and its surrounding areas were liberated from the "American Caliphate" with the help of American air power! Western media outlets have also been quick to claim that the successful operation was carried out in collaboration with Iranian Special Forces!
First of all, the beheading psychopath AND Western media outlets are both wrong, as they are barking at the wrong tree. It was Iraq's volunteer forces aligned with Iraqi army and Kurdish forces that liberated the besieged town of Amerli – and not American air power or Iranian Special Forces. For that matter, Iran has no boots on the ground there and has no intension to do so in the future – except for providing consultations in certain cases.
Based on official reports, a combination of Iraqi forces launched the major operation to lift the siege of Amerli, a town in Salahuddin province, northeast of Baghdad, where thousands of Turkmen residents had been trapped. They broke through and secured the town with the help of locals, and are now pressing their successful counteroffensive elsewhere in the area.
Into the argument, during an unexpected visit to the liberated town, outgoing Prime Minister Nuri al-Maliki said Iraq would crush ISIL, vowing his country would be a graveyard for the Takfiri terrorists. He, however, didn't thank Tehran or Washington, which suggests they played no role in the operation.
True, a day earlier the US had launched some airstrikes around that town, but as maintained by the White House, these were limited in nature and had nothing to do with the major offensive that came later. In fact, so far the US ground troops haven't engaged in any direct combat with ISIL, and the war weary US has simply launched reactive half-measures against them – and hit several small convoys of ISIL military vehicles at best – to set up Kurdish forces' ground operations.
Ironically, at a time when the "hesitant" White House is sending Secretary of State John Kerry, Defense Secretary Chuck Hagel and counterterrorism adviser Lisa Monaco to the Middle East "to build a stronger regional partnership" against ISIL (from among those who have armed and funded the beheading dogs in the first place), a combination of Iraqi forces are still facing such pure evil, gaining more grounds in Salahuddin province – just like their brothers-in-arms in Syria, as the battles now being waged in northern Iraq cannot be divorced from the battles being waged in Syria.
Furthermore, they are equally gaining the upper hand in various fronts and have achieved victories with the help of tens of thousands of volunteers. These young volunteers took up arms after top Shia cleric Grand Ayatollah Ali al-Sistani issued a religious decree calling on people to deal with the threatening evil – long before Washington decided to bring its military power to bear on the "American Caliphate" – whose appalling savagery reflects the appalling savagery of American military incursions anyhow.
In sum, from Libya and Ukraine to Iraq, Syria and the South China Sea, nothing has been coming up roses for the US lately. Whatever their politics, US senators (with Western media in tow) are free to claim that American air power has "devastated" ISIL. Perhaps that's what they need: A little pick-me-up to make them feel better AND eager enough to let loose the dogs of war.
However, it is unmistakably Iraq's security forces, religious leaders AND young volunteers on the ground that are riding to the rescue and turning back the terrorist tide. And they are doing it independently in the nick of time, without waiting for the US to form the so-called "coalition of the willing" to drain the swamp of ISIL – an extremist outfit that is, at least in part, America's shameful legacy of invasions, occupations, and drone campaigns in the Middle East and North Africa. A shameful legacy that has transformed several nations into a living nightmare and a spawning ground for various regional conflicts.