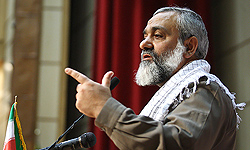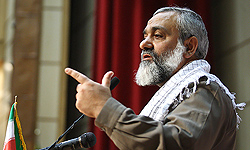 Commander of Iran's Basij (volunteer) force Brigadier General Mohammad Reza Naqdi said that the recent penetration of a drone of the Lebanese Hezbollah deep into Israel's airspace was part of the movement's power and the Zionist regime should wait to see more advanced drones in its sky.
"Zionists must expect hundreds of other drones in 25 different models with new flying systems that they won't know how to confront them," Naqdi told reporters on Friday.
The infiltration of the drone into the airspace of the occupied lands exposed only the smallest part of the power of Hezbollah and the resistance and dealt a heavy blow to the Israeli regime, he added.
Last Thursday, Secretary-General of Hezbollah Seyed Hassan Nasrallah confirmed that the movement has sent a drone deep into the Israeli airspace, and stressed that the move demonstrated part of Hezbollah's capability.
The operation code-named Hussein Ayub saw Hezbollah's drone fly hundreds of kilometers into the Israeli airspace and getting very close to Dimona nuclear plant without being detected by advanced Israeli and US radars, Nasrallah said.
"This is only part of our capabilities," he stressed, adding that Israelis have admitted to their security failure despite being provided with the latest technologies by Western powers.