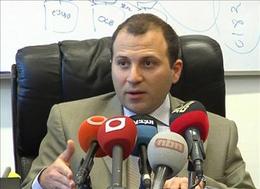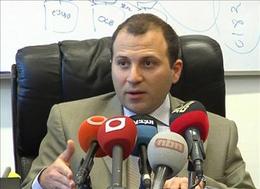 Lebanese Foreign Minister Gebran Bassil Sunday highlighted the importance of Lebanon's right to liberate occupied land and resist any Israeli assault, warning that the country is in danger of becoming a conduit for jihadists worldwide as it faces the worst refugee crisis in modern times.
Speaking at an Arab League summit in Cairo, Bassil appealed to Arab states to help Lebanon with the overwhelming number of Syrian refugees on its soil, and to assist the country combat terrorism by funding the Lebanese Army.
"Lebanon has the right to liberate the Shebaa Farms, Kfarshouba Hills and the Lebanese sector of Ghajar, and to resist any Israeli aggression or occupation with all available, legitimate means. It is a right that no one in the Arab community has any interest in abandoning," Bassil told the summit in his 15-minute address, his first in his new position.
Bassil also spoke about the danger posed by the rise of Jihadist groups in Lebanon, saying such a phenomenon threatened the entire Arab world.
"We fear that Lebanon will become a passageway for jihadists." "The solution lies in properly equipping the army," he added.