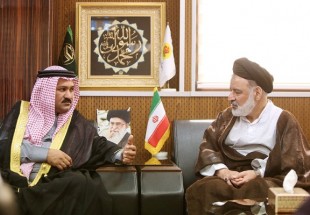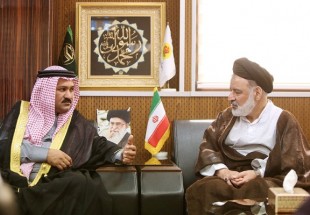 Hujjat-ul-Islam Seyyed Mousa Mousavi, deputy of Iran's World Forum for Proximity of Islamic Schools of Thought, met with a group of Iraqi tribal authorities praising the active participation of Sunni forces in fight against ISIL terrorists and vowed Iran's constant support for the neighboring country, reported Taqrib News Agency (TNA).
Iranian cleric referred to different anti-Iran plots both at home and by foreign agents and said our victory in all these intrigues are owed to cooperation of Shia and Sunni communities.
He praised the unity of Shia and Sunni Muslims in Iraq calling the diversity of tribal and ethnic groups as a blessing which has always been a target for the enemies of Islam.
He stressed," We believe tribal and ethnic construct is a shield against intrigues and corruption and safeguarding this construct is possible through maintaining unity and fraternal ties."
Deputy of World Forum in this meeting referred to victory of the Islamic Awakening during the past years and denounced hostile struggles to prevent expansion of the movement by sparking alleged Shia Sunni disagreements.
Hujjat-ul-Islam Mousavi noted," I believe Sunni volunteers who join Hashd al Shabi and Iraqi forces stand in a higher position than other forces because they are in a fight against enemies and also foil the intrigue to divide Shia and Sunni."
Iranian cleric stressed Daesh neither Shia nor Sunni and hailed the endeavors of Sunni forces saying," Participation of Sunni Muslims in a fight against Daesh is proof that enemies cannot pretend anti-Daesh battle as a clash between Islamic denominations Shia and Sunni."
He warned that the current battle in Iraq is not merely Iraq rather aims the whole world of Islam; hence, victory of Iraqi nation is an achievement for the whole Muslim world."