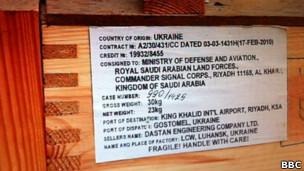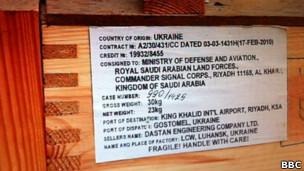 The British network BBC said Monday that weapons shipments intended for the Saudi military have been diverted to Syrian militant rebels fighting against the Syrian army in Aleppo.

"Three crates from an arms manufacturer – addressed to Saudi Arabia – have been seen in a base being used by rebel fighters in the city of Aleppo," BBC correspondent to Syria Ian Pannell reported.
How the small crates reached Aleppo is unknown, and the BBC was not allowed to film their contents.
"The crates of ammunition found in an Aleppo mosque were made by the Ukrainian firm Dastan, which specialises in naval weapons and missile complexes," BBC report said.
However, the presence of crates in the area "clearly suggests that someone in the Gulf is actively helping the rebels fighting to overthrow President Bashar al-Assad," BBC added.
When contacted by the BBC, Saudi officials refused to comment.
Privately, opposition sources have confirmed to the BBC that they are receiving assistance from Saudi Arabia and Qatar.
Earlier, the New York Times reported that Saudi and Qatari officials admitted they are sending arms to the rebels.
Meanwhile, in a speech on foreign policy on Monday, US presidential candidate Mitt Romney has said that if elected, he would back Western-friendly elements among the Syrian rebels.