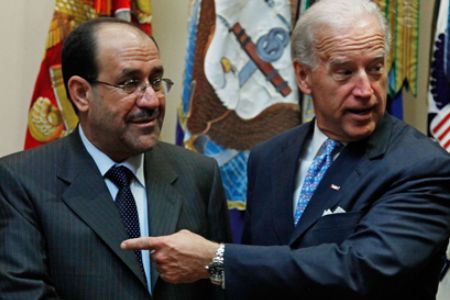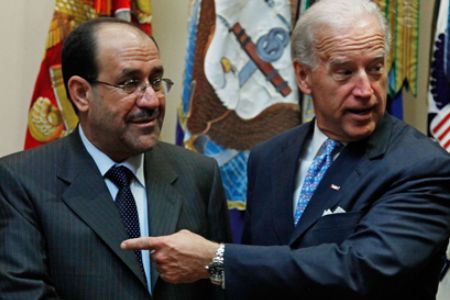 US Vice President Joe Biden and Iraqi Prime Minister Nouri al-Maliki have discussed the upcoming United Nations Security Council high-level meeting on Iraq in a phone conversation.
The December 15th summit, which is to be chaired by Biden, convenes to inspect the security situation as well as the political progress made in Iraq.
It will also look into ways to terminate some of Saddam era Chapter VII obligations imposed on Iraq by the UN Charter.
Under the Chapter VII Resolution, force can be used to try to eliminate threats to international peace and security emanating from a situation or a country.
It also allows complete or partial interruption of economic relations, communication and the severance of diplomatic relations.
Iraq has been under Chapter VII restrictions since former Iraqi execued dictator Saddam Hussein's 1990 invasion of Kuwait.
Now, nearly two decades after that war and six years after Saddam was removed from power, Iraq is still subject to the UN sanctions.
Until now, billions of dollars of Iraqi funds have been blocked in international banks, with the money used to compensate victims of the Iraqi invasion of Kuwait.
Iraq also continues to pay five percent of its oil revenues to Kuwait. This has imposed a heavy burden on Iraqis.
This is while under the Status of Forces Agreement signed between Washington and Baghdad in 2008, the United States is committed to bringing Iraq out of Chapter VII.
During the Saturday telephone conversation with Maliki, Biden also discussed a plan to limit the power of Iraq's central government and give more power to its ethnically divided regions.
The US-engineered plot proposes separating Iraq into three Kurdish, Shia and Sunni entities, with a federal government in Baghdad in charge of border security and oil revenues.
The US-led invasion of Iraq in 2003 has fanned the flames of sectarian and ethnic conflicts in the country.
Over the past years, senior US officials have been trying to dismember Iraq as a supposed solution to ethnic conflicts.
However, critics of the plan, which was inspired by the settlement that ended the Bosnian conflict in the 1990's, have continuously stressed that partitioning Iraq would only encourage sectarian killings in the already war-torn country.