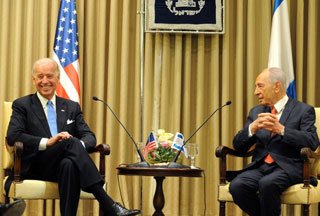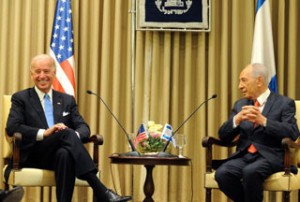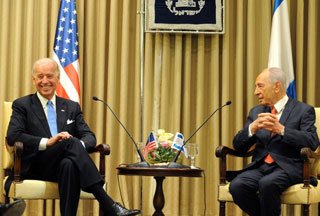 US Vice President Joe Biden, who is in Israel for 'proximity talks' between Israelis and the Palestinians, has reiterated Washington's commitment to Israel's security.
There is absolutely no space between the two sides in terms of Israel's security, Biden assured in a meeting with Israeli President Shimon Peres.
The Israeli president for his turn said Tel Aviv trusted the US administration and also called on Washington to "protect Israel against Tehran's nuclear threat."
Biden, who is on a four-day tour of the Middle East, expressed optimism on the resumption of Israeli-Palestinian negotiations.
"I hope the beginning of what is referred to as indirect or proximity talks, I hope it is a vehicle, a vehicle by which we can begin to allay that layer of mistrust that has built up in the last several years," Biden said.
Biden, who also met with Israeli Premier Benjamin Netanyahu, is due to travel to the West Bank on Wednesday to hold talks with the Palestinian Authority leaders.
The visit comes one day after Israeli authorities announced plans to build 112 new housing units in the occupied West Bank, prompting warnings from the Palestinian negotiators against sabotaging peace efforts.
The construction plans come in contrast to a 10-month freeze Israel announced in November on its illegal settlement activity in the West Bank.
But Washington defended the decision, saying it was not in breach of the November moratorium.