Europe
Saudi Arabia
Bin Salman, Macron meet amid calls for end to French arms sales to Saudis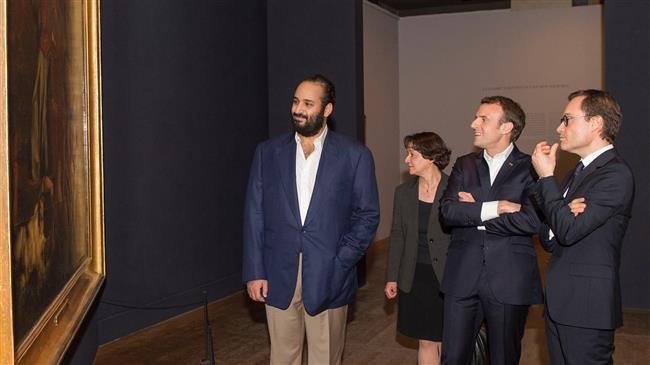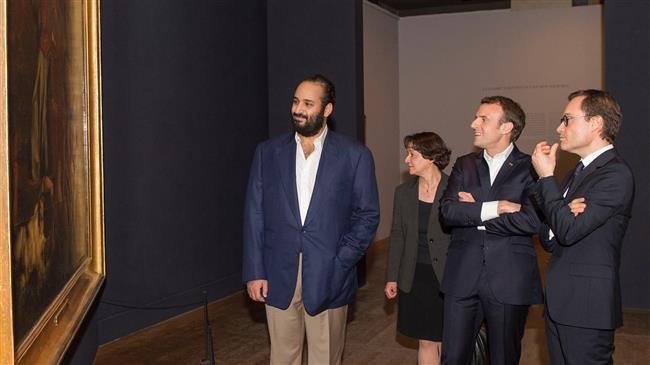 French President Emmanuel Macron hosts a private dinner for Saudi Crown Prince Mohammed bin Salman at the Louvre Museum amid pressure on his administration to halt lucrative weapons sales to Riyadh over its war crimes in Yemen. 
The French president's office said the two-hour meal and talks between the two officials took place on Sunday evening, with the dialog meant to "anticipate the topics" of upcoming discussions.
The museum was chosen as a symbol of France's cultural heritage and because of the launch of a painting exhibition, the office said, adding that Saudi Arabia and France would work on defining a "strategic partnership" during bin Salman's visit.
The heir to the Saudi throne arrived in Paris on Sunday — the fourth destination in his international tour that has already taken him to the US, UK and Egypt.
The Saudi crown prince will wrap up his trip on Tuesday with another dinner with the French president, this time at the Elysee Palace.
A source close to bin Salman's delegation told AFP that some 18 memorandums of understanding in energy, agriculture, tourism and culture will be signed at an official Saudi-France CEO Forum on Tuesday.
It was unclear whether Macron would broach human rights issues.
France is the world's third biggest arms exporter and counts Saudi Arabia and the United Arab Emirates among its biggest purchasers.
Paris has come under fierce criticism by rights groups at home and abroad for selling arms to the Saudi regime, which is involved, along with a number of its allies, in a bloody military campaign against Yemen, the Arabian Peninsula's poorest nation.
Anti-war activists say Riyadh is complicit in Saudi crimes against Yemeni people.
Prior to bin Salman's meeting with the French leader, several rights groups urged Macron to pressure the prince, who is known as the architect of the Yemen war and has been leading the campaign as the Saudi defense minister.
"France is potentially an accomplice to serious violations of humanitarian laws by selling weapons and military equipment to Saudi Arabia, given what we know is taking place in Yemen," said Aurelie Perrier, coordinator for Yemen and Saudi Arabia at Amnesty International France.
Speaking during an anti-Saudi protest under the Eiffel Tower, she also called on the French president "to stop arms transfers to Saudi Arabia and to lift the blockade on Yemen."
Meanwhile, two rights groups, the Weapons Observatory (Obsarm) and the International Federation for Human Rights (FIDH), said "confidential testimony" pointed to the use of French military equipment in the Saudi aggression on Yemen.
"If these indicators do not constitute proof, they throw serious suspicion on the massive presence and use of French military equipment in Yemen," they said in a statement.
Additionally, Benedicte Jeannerod, head of Human Rights Watch France, denounced widespread rights violations inside Saudi Arabia.
"Saudi Arabia is still in pole position among countries who use the death penalty the most," she said. "European partners, and in this case France, should not shut their eyes to these grave abuses on the pretext that they wish to support a supposedly reformist friend."
Last week, French lawmaker Sebastien Nadot and 15 other co-signatories officially filed a request for a 30-member commission of inquiry into Paris' role in the war on Yemen.
The commission is "to study France's compliance with international commitments regarding arms export licenses, munitions, training, services and assistance that our country has granted during these three years to the belligerents of the conflict in Yemen," Nadot said.
Bin Salman sued at Paris court
On Tuesday, a Sana'a-based rights group filed a lawsuit with a Paris court against bin Salman, who also serves as the Saudi defense minister.
The Legal Center for Rights and Development (LCRD) held the Saudi crown prince responsible for attacks on Yemeni civilians, accusing him of complicity in torture in the conflict-ridden country.
"He (bin Salman) ordered the first bombings on Yemeni territory on March 25, 2015," the group's lawyers, Joseph Breham and Hakim Chergui, said in the complaint seen by Reuters. "The existence of indiscriminate shelling by the coalition armed forces affecting civilian populations in Yemen can be qualified as acts of torture."
The lawyers further cited UN reports and documentation by some human rights organizations on arbitrary detentions and the use of illegal cluster bombs by the Saudi-led coalition in Yemen.
The military campaign has killed and injured over 600,000 civilians since its onset in March 2015, according to the latest figures released by the Yemeni Ministry of Human Rights.