Egypt
Blasts hit Cairo University campus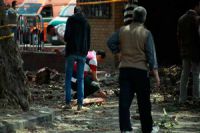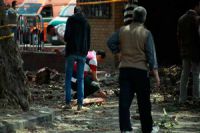 According to Press TV, three powerful bomb explosions have rocked the Cairo University campus, killing at least two people and injuring several others.
Officials say a civilian and a brigadier general were killed in the first twin bombs that went off back-to-back.
Several civilians and three police officers, including a deputy police chief were injured.
The area outside the campus has been the scene of previous clashes between supporters of the ousted president, Mohamed Morsi, and security forces.
Egypt's interim government has blamed the blasts on the supporters of ousted president, but there has been no claim of responsibility from any group.
Tensions in Egypt have been on the rise since former defense minister, General Abdul Fatah Sisi, quit his post to run for the upcoming presidential vote.
Sisi was appointed as the general commander of the armed forces and defense minister by Morsi back in 2012. But months later, he played a key role in masterminding Morsi's downfall.
Figures show Egypt's military-backed government has jailed nearly 16,000 people over the past few months.
International bodies and human rights groups have expressed concern over the Egyptian security forces' heavy-handed crackdown and the killing of peaceful anti-government protesters.