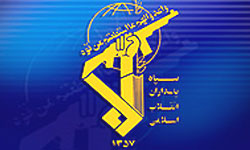 Two separate terrorist explosions in southeastern parts of Iran have killed and injured dozens including top commanders of the Islamic Revolution Guards Corps (IRGC).
The first attack took place at a unity gathering of Shia and Sunni tribal leaders on Sunday morning, in the Pishin area, a region situated in the borderline Province of Sistan-Balouchestan.
Reports indicate that provincial IRGC commanders Brigadier Nour-Ali Shoushtari and Brigadier Rajab-Ali Mohammadzadeh were among those who lost their lives in the attack.
Several tribal leaders and recognized local figures from both the Shia and Sunni communities were killed in the attack.
The victims included Aref Bara son of Haj Vali Mohammad, Eslam Movahhedi son of Ebrahim, Kalati Dehqani son of Shanbe Haj, Shahani Dehqani son of Saheb, Panjshanbe Dehqani son of Gajir, and Khodabakhsh Dehqani son of Moradbakhsh.
There are no clear reports on the exact number of casualties as of yet but preliminary figures suggest that up to 60 people have been killed or injured in the attack.
At around the same time, another group of IRGC commanders were caught in an explosion as their convoy came under attack at a road junction in Pishin- a region situated between the two towns of Sarbaz and Chabahar.
Eyewitness said the convoy was turning at the junction when the bomb exploded.
So far, no group has accepted responsibility for the deadly attacks.