Middle East
Syria
Blood Curdling: US-israel, Turkey, KSA, Jordan, Qatar backed ISIL executes Syrian soldier, running him over by tank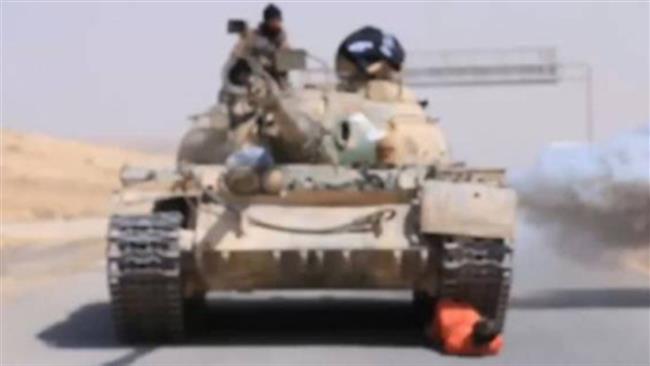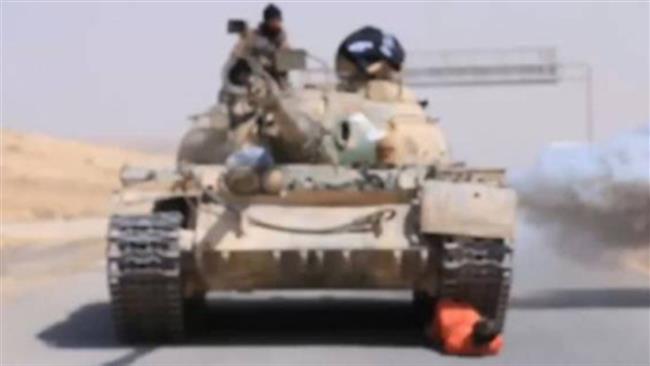 The Daesh (ISIL) Takfiri terrorist group has released new footage purportedly showing the execution of a Syrian soldier in the central province of Homs.
The video was released on October 24.
The Syrian soldier, identified as Fadi Amr al-Zaydan, worked for the intelligence department of the Syrian air force when he was detained.
The 19-year-old was from the village of Sian in the Jableh area of the western province of Latakia.
The execution was, according to the terrorist group, filmed in the city of Homs.
The video shows the Syrian soldier being tied down, clad in orange. A tank is afterward seen rolling in his direction and crushing him under its treads.
On Saturday, the so-called Syrian Observatory for Human Rights reported that it had received information in September that Daesh would execute Syrian government forces by running them over with tanks.
In a footage that emerged in July, the terrorist group executed 25 Syrian soldiers in the ancient city of Palmyra.
The executioners that seemed to be teenagers shot dead the soldiers dressed in green and brown military uniforms on the stage of the city's amphitheater.
The militants have so far released several similar video clips showing the execution of captives from different countries, including Egypt, the United States, Britain, and Japan. The hostages, including aid workers and journalists, were usually dressed in orange jumpsuits, reminiscent of the ones inmates wear in US prisons set up for holding "terror" prisoners.