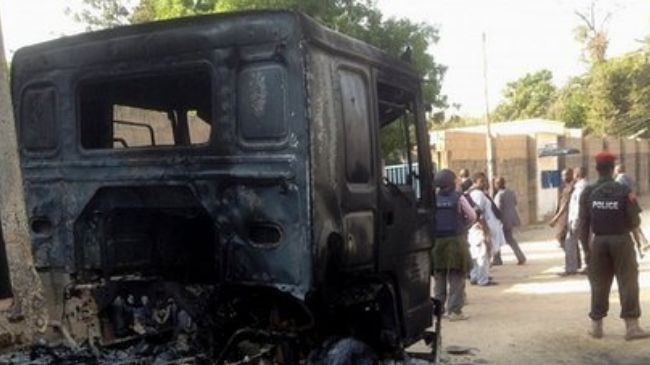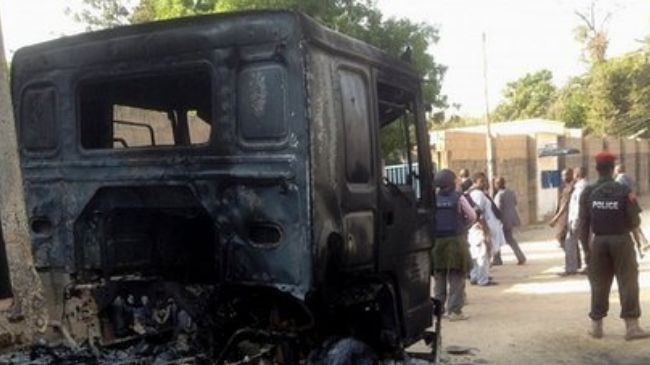 A large number of Boko Haram militants have attacked barracks and an air force base in Nigeria's northeastern city of Maiduguri.
Witnesses and military sources said some hundreds of militants raided the airbase and barracks as well as several other areas of Maiduguri during the early hours of Monday.
The sources also stated that the militants damaged aircraft and razed the buildings and shops, as well as the army barracks to the ground; they also set fire to a number of petrol stations in the city.
"Three decommissioned military aircrafts as well as two helicopters were incapacitated in the course of the attack," said Brigadier General Chris Olukolade, a military official in the city.
Olukolade added that two dozen militants were killed during a shootout with security forces. Two service personnel were also wounded.
There has been no report on any possible civilian casualties.
However, some reports say a number of civilians, including two children, lost their lives during the assault.
Nigerian authorities have imposed a 24-hour curfew in Maiduguri, shut airspace and cut off the roads.
The Nigerian army spokesman in Maiduguri, Colonel Muhammed Dole, said the army has taken the control of the city. "The areas around the airport were calm and under control."
Violence has intensified in northeastern Nigeria since President Goodluck Jonathan ordered security forces in May to crush the four-year-old Boko Haram rebellion.
Nigerian forces have been raiding militant camps and launching air and ground attacks on suspected hideouts of the militants in recent months.
Boko Haram says its aim is to topple the Nigerian government, which it accuses of being pro-Western.
The group has claimed responsibility for a number of deadly gun and bomb attacks in various parts of Nigeria since 2009.