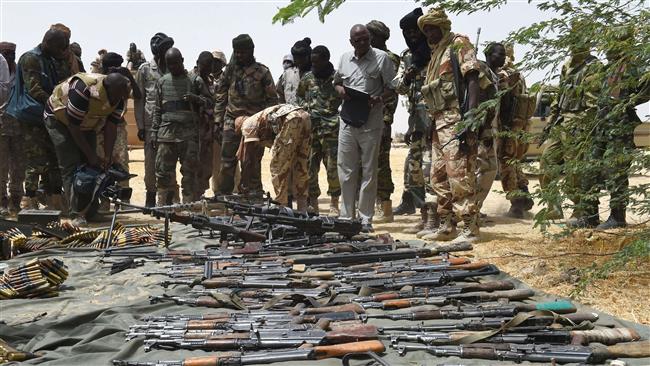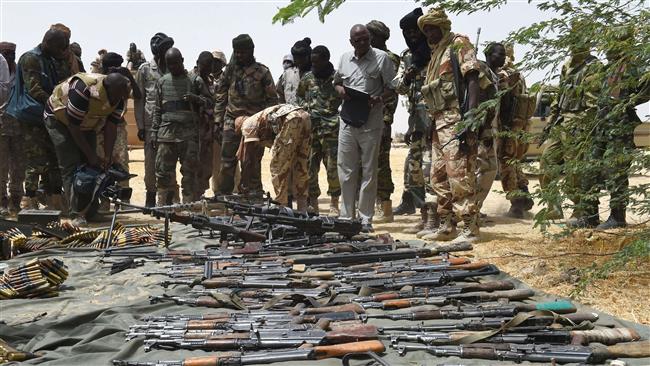 At least seven civilians have been killed when members of the Nigeria-based Boko Haram militant group launched an attack against a village in neighboring Chad.
Dimouya Souapebe, the deputy prefect of Baga Solan region, said Boko Haram extremists on Friday ambushed people on their way to a market in Tchoukou Telia near Lake Chad, which borders Chad, Nigeria, Niger and Cameroon.
He said some of the victims had their throats slit, while others had succumbed to fatal gunshot wounds.
Improvised explosive devices were later discovered along the road between Tchoukou Telia and Ngouboua, which lies close to the border with Nigeria and has come under Boko Haram attacks in recent weeks.
The report comes as the leaders of Central and West African countries plan to hold a summit in an effort to come up with a common strategy to counter the threat posed by Boko Haram.
Nigerien General Seyni Garba, center left, speaks next to Chadian General Brahim Seid, in red beret, during a press conference near the town of Malam Fatori, Nigeria, which was recently retaken from Boko Haram, April 3, 2015. © AFP
The planned event, due to be held on April 8 in Equatorial Guinea's capital of Malabo, was announced on Sunday in a joint statement by its organizers, the Economic Community of West African States (ECOWAS) and the Economic Community of Central African States (ECCAS).
"In the face of the mounting and increasingly bloody attacks by the fundamentalists against Nigeria, Niger, Cameroon and Chad, and the serious consequences for these countries, and the real risk of destabilizing Western and Central Africa, the two organizations have decided to take action," the statement read.
On March 30, Kang Kyung-wha, the UN deputy humanitarian affairs chief, said Boko Haram militants have killed over 7,300 civilians in Nigeria and the neighboring countries since the beginning of 2014.
"Gross human rights violations, including sexual and gender-based violence and child trafficking, are frequently reported," Kang stated.
The South Korean UN official added that 1,000 people have been killed since the beginning of this year alone.
Kang further noted that in regions affected by the militant group, 300 schools have been damaged and only 40 percent of health care facilities are functional.
This file photo shows members of the Boko Haram militant group at an undisclosed location in Nigeria.
Nigeria's President-elect Muhammadu Buhari has pledged to spare no effort to step up the fight against terror perpetrated by Boko Haram.
"I assure you that Boko Haram will soon know the strength of our collective will and commitment to rid this nation of terror and bring back peace," Buhari said in his acceptance speech on April 1, after his victory in the recent presidential election.