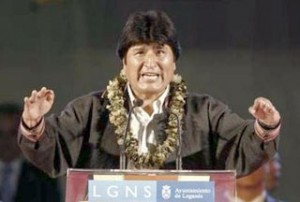 Bolivian President Evo Morales has nationalized four power companies in the latest step towards wider state control over the country's impoverished economy.
In executive orders issued Saturday, Morales announced the takeover of the power generating and electric distribution companies, including a subsidiary of France's GDF Suez as well as the UK-listed British Rurelec.
"We're taking back light for all Bolivians, and the state now controls over 80 percent of all the energy produced in Bolivia. Sooner or later, the state will have to control and administer 100 percent of the energy," Morales said, according to local press reports.
The president endorsed a new constitution last year that urges increased state control over the country's natural resources and utilities.
According to the Bolivian energy ministry, around 67 percent of the homes in rural areas and 13 percent of urban homes do not have access to electricity.
"We're fulfilling the thunderous demand from the people to recover and nationalize natural resources and basic services, which previously belonged to the state," Morales said, according to the website of Agencia Boliviana de Informacion, the official state news agency.
Meanwhile, the head of British-owned Rurelec denounced the takeover in a statement released Saturday.
"We're disappointed because Rurelec is the third largest British investor in Bolivia. And since 2006, when Evo became president, we have invested more than $110 million in new power plant capacity," said the company's chief executive, Peter Earl.