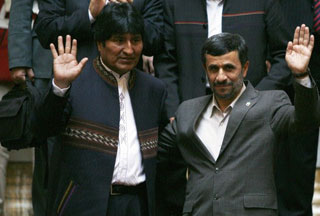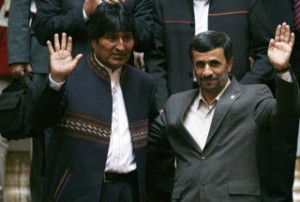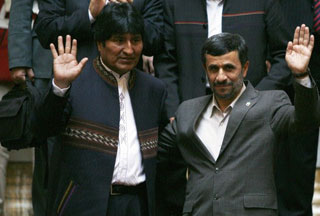 Iranian President Mahmoud Ahmadinejad and Bolivian President Evo Morales have called for the expansion of ties between the two countries.
"Free nations and governments should stand together to foil the plots hatched by imperialists," Ahmadinejad said after holding talks with Morales in the Bolivian capital La Paz on Tuesday.
"Although there is a great geographical distance between Tehran and La Paz, Iran and Bolivia have similar approaches," IRNA quoted the Iranian president as saying.
Morales stated that Iran is a great and developed country and called for the expansion of relations between the two countries.
"Bolivia is proud of its ties with the Islamic Republic of Iran in various spheres," Morales said.
The two presidents signed a joint statement in which they voiced their determination to boost the level of their bilateral ties.
The two countries also signed two memoranda of understanding, according to which Iran will build a dialysis center in Bolivia and will assist the Latin American country in mining research to improve the extraction of its reserves of lithium, a key mineral used in rechargeable batteries for cell phones, laptops, and electric cars.
Ahmadinejad arrived in Bolivia on Tuesday on the second leg of a tour of Africa and South America. His first two stops were Gambia and Brazil. His next stop is Venezuela, and he is scheduled to end the trip with a visit to Senegal.