Latin America
Bolivians celebrate President Morales' decision to run for fourth term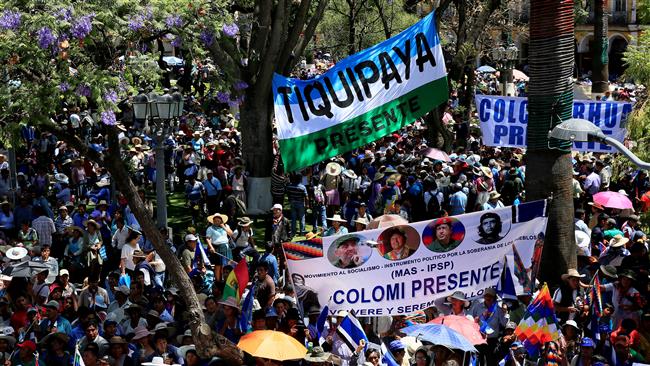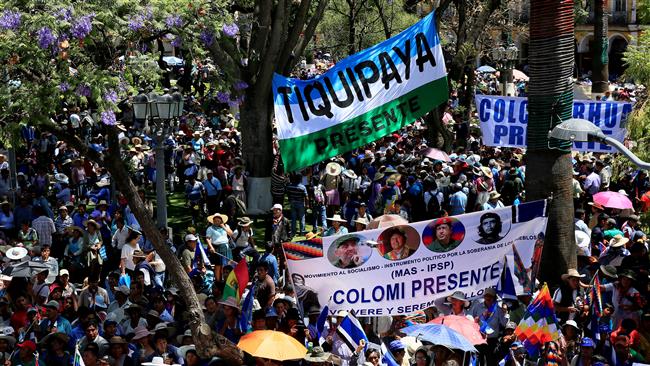 Thousands of people have staged a rally in the central Bolivian city of Cochabamba to celebrate President Evo Morales' decision to run for a fourth term in the 2019 election.
Over 30 trade unions and organizations alongside municipal delegations gathered at Cochabamba's main square on Thursday, wearing indigenous dresses and holding national and indigenous flags.
The demonstration coincided with Morales' birthday.
"Congratulations on your birthday, on this glorious day! Sisters and brothers, this is your gift to our president," Jonny Pardo, the leader of the Peasants of Cochabamba, said addressing the rally.
Many of the demonstrators were chanting slogans calling the president the savior of their land and traditions.
Morales, the country's first president of indigenous origin, came to power in 2006. His current term ends in January 2020.
He had said that he would happily give up office but his supporters pushed him to stay for another term.
Bolivia's economy has posted steady growth under Morales' leadership over the past decade.
"Bolivia has grown much faster over the last eight years than in any period over the past three and a half decades," the Center for Economic and Policy Research in Washington reported last year.