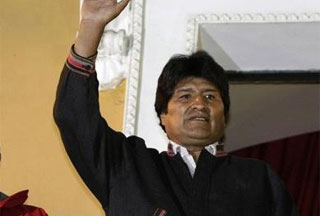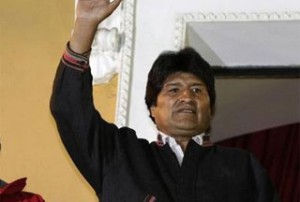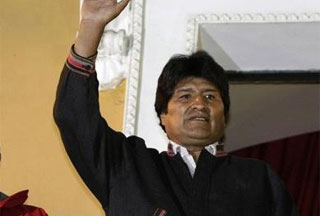 Bolivia's first indigenous president Evo Morales has claimed a landslide re-election victory in the country's presidential poll.
According to the latest vote countes, Morales has 'easily' won a second term in office. The victory could mean that his social reforms has proved palpable to the Bolivian middle class.
The latest vote counts from the country's Sunday presidential election indicates that the left-wing Bolivian leader has secured himself a second tenure by claiming around 63 percent of the vote, Bolivia's independent television channels reported.
The leftist president has introduced wide-ranging measures from redistribution of wealth and lands to establishment of indigenous universities in the South American state. The leftist president has promised deeper reforms and a greater role for the state in the economy during his second five-year term in office.
His leftist agenda, though, has been met with fierce criticism from the mostly European descendent Bolivians in the east especially in Santa Cruz province, who used to control much of the country's riches including oil, natural gas and vast lithium repertoires.
In Sunday's vote, Bolivian middle class threw their weight behind Morales who enjoyed support of the nation's large indigenous population in 2005 election.
Morales has his main rival, rightist former governor Manfred Reyes Villa trailing far behind with about 35 percent of the votes.
Meanwhile, exit polls indicate that his party has also won a two-thirds majority in Senate.
The official final result has yet to be announced.