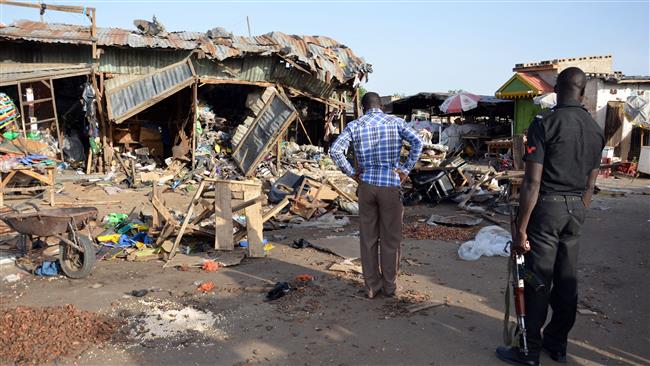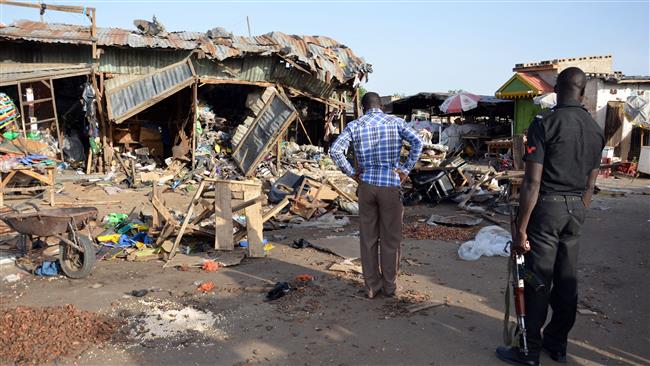 A bomb blast rocks a big market in Nigeria's city of Maiduguri in the northeastern Borno State, amid a string of recent similar attacks targeting the country.
A female assailant blew herself up at a taxi rank at the crowded Gamboru wholesale vegetable market on Friday, witnesses said.
"There had been a suicide attack on Gamboru market this morning. It was a female suicide bomber. The attack happened around 6:30 am (0530 GMT) as the grocers were arriving in the market which starts early," a vigilante, Babakura Kolo, added.
Trader Bukar Shettima says he saw "nauseating corpses and battered bodies littering the ground" before he ran away.
There is no immediate information on the number of casualties as rescuers are still recovering bodies; however, the bomb blast bears the hallmarks of those carried out by the Takfiri Boko Haram militants.
Since just over a week ago, bombings by the militants killed at least 47 people in attacks on crowded places in towns in both Nigeria and neighboring Cameroon.
The attack comes a day after Nigerian Defense Ministry appointed Major General Iliyasu Isah Abbah to command an 8,700-strong regional army to curb the Takfiri militancy that has spilled across Nigeria's borders.
Boko Haram, whose name means "Western education is forbidden," controls large parts of northeastern Nigeria. Cameroon, Chad, Niger and Nigeria are the four African countries which have been directly affected by the growing threat of Boko Haram in recent months.
Troops from Nigeria, Chad, Cameroon and Niger have been battling Boko Haram terrorists in recent months.
Chad's anti-Boko Haram campaign
The new terror activity comes as Chad's army has announced that it has killed 117 Boko Haram militants during an anti-terror military operation on the islands of Lake Chad.
Chad's army spokesman Colonel Azem Bermendoa Agouna gave the figure in a statement on Friday, adding that two Chadian soldiers also died and two others were wounded in the operation, which is still underway.
71 released from Boko Haram captivity
Meanwhile, Nigerian soldiers have released 71 people, almost all girls and women, from Boko Haram captivity in the African country's restive northeastern state of Borno.
"Our … troops have rescued a total number of 59 civilians in two camps of the terrorist group" in the city of Maiduguri in Borno State, army spokesman Colonel I.T. Gusau said on Thursday.
He said that the 59, all women and children except for five elderly men, were freed on Thursday, adding that another 12 women and girls had also been rescued on Wednesday.
A number of militants were also killed in the course of the operations, which were carried out in villages near Maiduguri.
Some of the captives said they were in the Takfiri terrorist group's captivity for as long as a year before they were rescued, adding that they were waiting for their death.
Earlier this week, the Nigerian army said it had freed 30 other hostages, including 21 children.
Boko Haram's violence has claimed the lives of more than 20,000 people and displaced two million people since 2009. The group is also holding many women, girls and children captive.