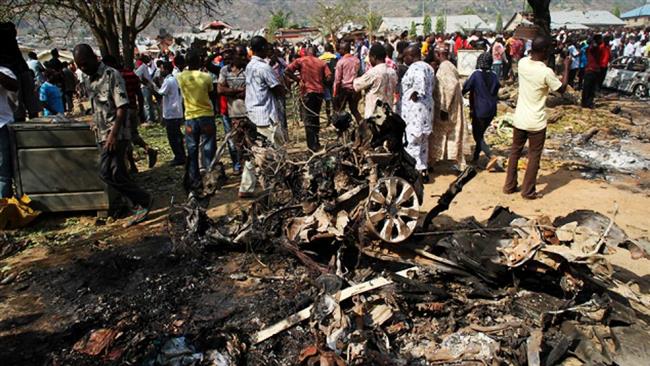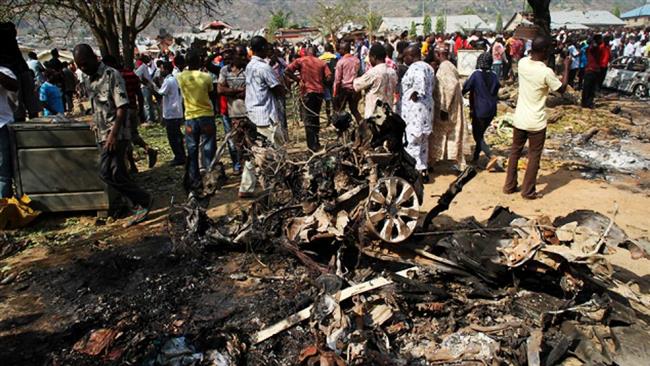 At least six people have been killed and 11 others wounded after a bomb blast struck a marketplace in Nigeria's northeastern state of Gombe.
"Six people were killed, including the bomber and 11 others were injured. We evacuated them to the hospital," Saidu Ahmed Minin, head of operation of the National Emergency Management Agency (NEMA) in Gombe, said on Friday.
The blast went off Friday afternoon in a crowded market in the neighborhood of Kasuwar Arawa, close to the public university in Gombe, the capital of Gombe state.
No group has claimed responsibility for the assault so far, but such acts of violence are usually blamed on the Boko Haram Takfiri militant group.
Boko Haram, whose name means "Western education is forbidden" says its goal is to overthrow the Nigerian government.
It has claimed responsibility for a number of deadly shooting attacks and bombings in various parts of Nigeria since the beginning of its operations in 2009, which have left more than 10,000 people dead so far.
According to the Office of the United Nations High Commissioner for Refugees, nearly 650,000 Nigerians have fled their homes due to Boko Haram attacks and are displaced inside the African country, while thousands of others have taken refuge in neighboring countries.