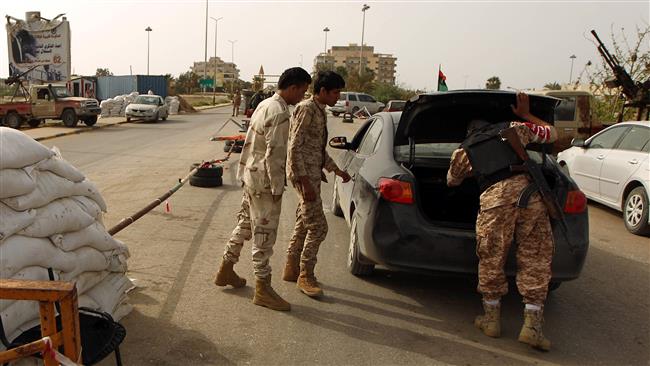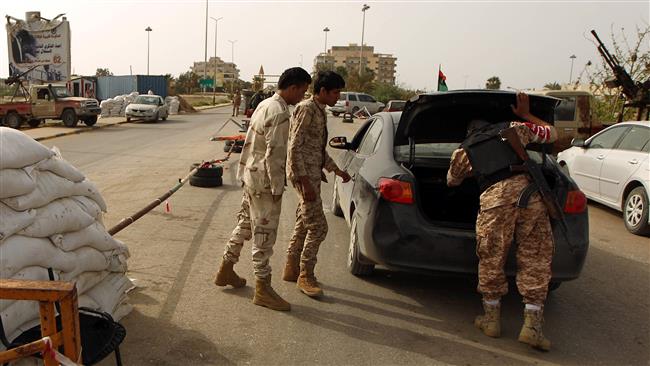 An assailant has blown his vehicle up at a security checkpoint near the western Libyan city of Misrata, killing at least six people and injuring more than 20 others.
The attack took place at the Saddada checkpoint east of the volatile city on Sunday.
Sources said one woman and her two children were among the victims of the blast at the checkpoint.
Medics also said the death toll is expected to rise as some of the injured are reported to be in critical condition.
Meanwhile, a branch of the ISIL terrorist group has claimed responsibility for the Sunday fatal bombing.
Misrata is a power base for the Fajr Libya (Libya Dawn) militia, who took over the capital, Tripoli, in the summer last year and set up their own self-declared government and parliament.
Fighters from the Fajr Libya (Libya Dawn) keep watch in al-Aziziyah, located some 40 kilometers south of the Libyan capital, Tripoli, March 25, 2015. (© AFP)
Libya has two rival governments vying for control of the country, with one faction controlling Tripoli, and the other, Libya's internationally recognized government, governing the cities of Bayda and Tobruk.
The government and elected parliament moved to the eastern city of Tobruk after Libya Dawn militia and some armed groups based in the northwestern city of Misrata seized Tripoli and most government institutions in August 2014.
Several rounds of peace talks brokered by the United Nations have been held in recent months aimed at forming a unity government between the rival factions. The peace talks have failed to deliver any practical results so far.
Also on Sunday, warplanes from the internationally recognized government carried out as series of air raids on Tripoli's outskirts, targeting Libya Dawn positions. There were no immediate reports of damage or casualties.
ISIL in Libya
The presence of Takfiri ISIL terrorists in Libya has further complicated the situation in the violence-wracked North African country.
The terrorist group controls some regions in Iraq and Syria.
In February, 45 people were killed and dozens of others injured in triple ISIL bombings that struck Libya's northeastern city of al-Qubah.
In the same month, the Takfiri group also released a video showing the beheading of 21 Egyptian Christians in Libya. The victims had reportedly been abducted in Libya's northern coastal city of Sirte in two attacks in December 2014 and January 2015.
Libya plunged into chaos after the ouster of longtime dictator, Muammar Gaddafi in 2011, which gave rise to a patchwork of heavily-armed militias and deep political divisions.