Iraq
Boroujerdi: Daeshˈs activities diminishing in Iraq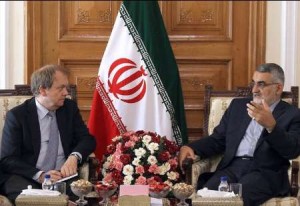 Chairman of Majlis (Iranian Parliament) National Security and Foreign Policy Commission Alaeddin Boroujerdi and Danish Ambassador to Tehran Anders Christian Hougaard in a meeting in Tehran discussed bilateral ties and regional developments on Wednesday.
During the meeting, Boroujerdi pointed to the restoration of political stability to Iraq, and said, ˈFortunately, the political crisis has lapsed in Iraq and with political stability in the country the terrorist activities of Daesh has declined in the region.ˈ
ˈIran strongly supports Iraqˈs integrity and it is a policy that is supported by the regional countries,ˈ he added.
Boroujerdi pointed to the importance of relations between Iran and Denmark, specially in parliamentary field, and said, ˈThe continuation of visits by these delegations to Iran shows the parliamentary diplomacy between the two sides has become more active.ˈ:
The Danish ambassador, for his part, expressed the hope that the bilateral relations between the two countries will be expanded.
He said that Denmark enjoys views similar to those of Iran, and said, ˈWe also hope that the difficult conditions of Gaza should end very soon.ˈ
Hougaard underlined the need for expansion of mutual cooperation between Iran and Demark and welcomed the presence of the two countriesˈ parliamentary delegations.