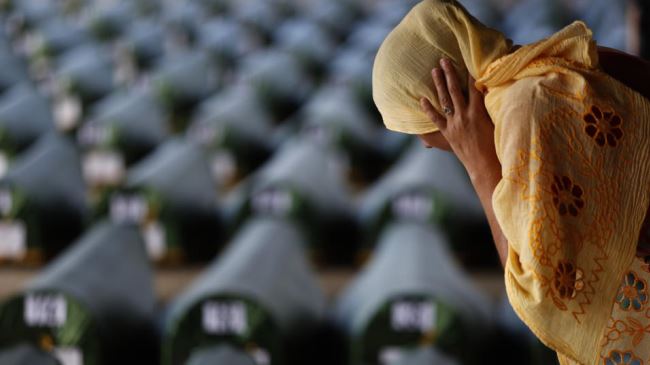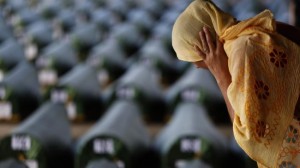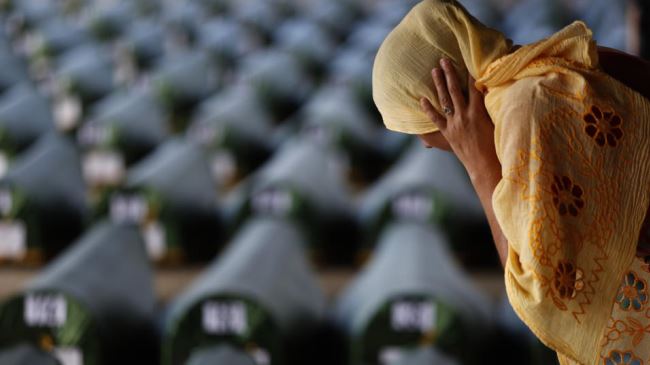 Hundreds of people have turned out in the Bosnian capital of Sarajevo to pay respect to 175 victims of the Srebrenica massacre, Europe's worst such incident since World War II.
As the coffins of the victims, shielded by a canvas cloth, passed by in a truck during a Wednesday event, some tucked flowers in or caressed the canvas. Others silently prayed as the truck stopped briefly in front of Bosnia's presidency building.
The remains of the men and boys, found in mass graves and identified through DNA analysis, will be buried in Srebrenica on Friday, the 19th anniversary of the massacre, next to the 6,066 previously found victims.
The eastern town of Srebrenica was a United Nations-protected area that was besieged by Serb forces throughout the 1992-95 war for Serb domination in Bosnia.
However, the UN troops offered no resistance when the Serbs overran the majority Muslim town on July 11, 1995, rounding up Srebrenica's Muslims and killing over 8,000 men and boys. An international court later labeled the killings as genocide.
Meanwhile, workers are continuing to excavate for the victims' bodies from hidden mass graves, and their job is made more difficult because those responsible for the massacre often retrieved the bodies and relocated them elsewhere to hide the crimes.
Many of the remains were torn apart or mixed up by bulldozers, and experts have had to use DNA analysis to put a body together from bones found in locations miles from each other.