Bahrain
Brave Bahraini Revolutionaries at king's speech attacked by Saudi-backed Bahraini forces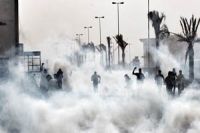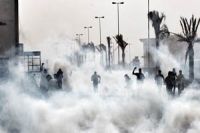 Saudi-backed Bahraini forces have attacked hundreds of pro-democracy protesters censuring an annual speech by the king, which had praised forces of the country.
The demonstrators took to the streets in several villages near Manama on Sunday, despite a ban imposed by the Al Khalifa regime on protest.
Bahraini forces fired teargas canisters and birdshot to disperse the demonstrators.
In his speech, delivered earlier in the day to mark the Bahrain National Day, King Hamad bin Isa Al Khalifa praised the country's "armed, security, and National Guard forces who are always ready" to ensure "security and stability."
Demonstrators shouted slogans against the Al Khalifa family and called for the resignation of the country's Prime Minister Sheikh Khalifa bin Salman Al Khalifa, the king's uncle, who has retained his post for decades.
The protesters say they will continue holding anti-regime demonstrations until their demand for the establishment of a democratically-elected government is met.