Palestine
Iraq
Middle East
Brave Iraqi resistance says weapons can reach depths of 'israel' as world reacts
Iraq's al-Nujaba resistance movement has reiterated its readiness to provide the Palestinians with military support and to even engage in the fight against Israel, noting that its weapons can hit targets deep in the occupied territories.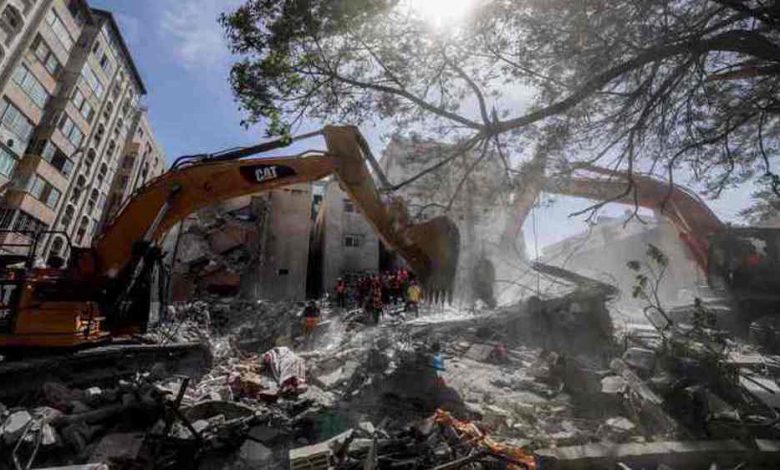 Speaking in an interview with Iran's Mehr news agency, Nasr al-Shammari, the official spokesman of the al-Nujaba, reiterated his movement's firm position on supporting the Palestinian people with all possible means.
"We in the Islamic resistance of Iraq won't spare any effort … to support our brothers in the Palestinian resistance and our people in dear Palestine; this is our legitimate and moral duty," he said.

"We are ready to support the Palestinians resistance with weapons and expertise and even direct participation in the fight against that deformed entity," Shammari said.
"We have expertise and weapons that can reach the depth of that usurper entity."
Over the past weeks, tensions have escalated in Jerusalem al-Quds amid acts of aggression by Israeli troops and settlers, and the planned expulsion of dozens of Palestinians from the Sheikh Jarrah neighborhood in the occupied East al-Quds, where illegal Israeli settlers seek to take over the properties of Palestinian families.
Palestinian resistance fighters have launched thousands of rockets into the occupied territories in retaliation for Israeli violations in Jerusalem al-Quds and its bombardment of the Gaza Strip, which have left about 200 Palestinians dead since May 10.
Jordan's king: Diplomatic efforts underway
Jordan's King Abdullah said his country, the official custodian of Muslim and Christian sites in al-Quds, was involved in intensive diplomacy to halt Israel's military aggression, without elaborating.
Reuters cited Jordanian government officials as saying that the kingdom was leading a diplomatic campaign with its European and US allies to exert pressure on Tel Aviv to end its aerial and artillery attacks on Gaza.
"There are intensive contacts with international parties to halt Israel's escalation," state media said.
Thousands of Jordanians staged a protest in the capital Amman on Sunday in support of the Palestinians in Jerusalem al-Quds and Gaza for the seventh consecutive day.
They urged the government to cut diplomatic ties with Tel Aviv, to expel the Israeli ambassador and to scrap its peace deal with Israel.
Egypt exerting efforts to reach ceasefire
Egypt's President Abdel Fattah el-Sisi said Monday his country is exerting efforts to achieve a ceasefire.
Sisi, who is on a visit to Paris, stressed the importance of stopping violence and killings so that calm returns to Gaza.
Blinken discusses Gaza with Qatari, Egyptian, Saudi FMs
The US State Department said Secretary of State Antony Blinken discussed the situation in Israel, the occupied West Bank and Gaza in phone calls with his Qatari, Egyptian and Saudi counterparts.
Blinken and Qatar's Mohammed bin Abdulrahman Al-Thani discussed "efforts to restore calm in Israel and the West Bank and Gaza in light of the tragic loss of civilian life", it said.
During the phone call, al-Thani stressed the "need for urgent action by the international community to stop the repeated brutal Israeli attacks against civilians in Gaza and the blessed al-Aqsa Mosque," the Qatari Foreign Ministry said in a statement.
In his call with Egypt's Sameh Shoukry, Blinken "reiterated his call on all parties to de-escalate tensions and bring a halt to the violence", the State Department said in another statement.
The State Department said Blinken and Saudi Foreign Minister Prince Faisal bin Farhan Al Saud also discussed "the ongoing efforts to calm tensions in Israel and the West Bank and Gaza and bring the current violence to an end."
Qatar's Al-Thani also held a phone call on Sunday with Shoukry, in which they reviewed "bilateral cooperation relations and developments in Palestine," the Qatari Foreign Ministry said in a separate statement.
The Egyptian Foreign Ministry said in a statement that the two ministers agreed on "the importance of working to reach an immediate ceasefire between the two sides, and they also agreed to continue coordination in the bilateral framework, as well as in regional and international ones, regarding what is in the interest of the Palestinian people and reaching a ceasefire".
General strike in occupied territories
In solidarity with Gazans and Jerusalemites, people in the occupied West Bank and territories occupied in 1948 will stage a general strike on Tuesday.
The strike would be the first of its kind in decades.
Moroccans stage anti-Israel protests in 50 cities
Across Morocco, people took to the streets in scores of cities to protest against the Israeli aggression against Gaza and al-Quds.
In a Facebook Live video broadcast by the Moroccan Front for Supporting Palestine and Against Normalization, a senior leader of the Justice and Charity Party said Moroccans took part in gatherings in 50 cities, including the capital Rabat, to express solidarity with the Palestinians.
The protesters burned the Israeli flag and decried Morocco's normalization of ties with Israel.
Malaysia expresses solidarity with Palestinians
In a post on his official Facebook page on Sunday, Malaysian Prime Minister Muhyiddin Yassin said, "On behalf of the people of Malaysia, I express my condolences and sadness on the loss of lives and injuries inflicted on Palestinians by the Israeli regime's vicious attacks."
He also reaffirmed Malaysia's support for the Palestinians.
The premier said Malaysia was disappointed by the inability of the United Nations Security Council to immediately halt the Israeli violence against the Palestinians.https://if-cdn.com/JoJjRyB?v=1&app=1
RSF urges ICC to probe Israeli airstrikes on Gaza
Reporters Without Borders (RSF) urged the International Criminal Court's chief prosecutor Fatou Bensouda to include Israeli airstrikes on more than 20 media outlets in Gaza in her investigation into Israeli war crimes.
According to RSF, Israeli attacks have destroyed the premises of 23 Palestinian and international media outlets in the past week.
"Deliberately targeting media outlets constitutes a war crime," RSF secretary-general Christophe Deloire said.
"By intentionally destroying media outlets, the Israel Defense Forces are not only inflicting unacceptable material damage on news operations, they are also, more broadly, obstructing media coverage of a conflict that directly affects the civilian population. We call on the International Criminal Court's prosecutor to determine whether these airstrikes constitute war crimes."
Pro-Israel, pro-Palestine protesters clash in Canada
On Sunday, clashes erupted between pro-Israel and pro-Palestine protesters in Canada's Montreal, pushing police to use tear gas to separate and disperse the two groups.
Several thousand pro-Palestinian demonstrators had gathered Saturday in central Montreal to condemn Israeli "war crimes" in Gaza.
Erdogan calls on pope to help stop Israel's massacre
Turkey's President Recep Tayyip Erdogan called on Pope Francis to help rally the world to adopt sanctions against Israel for its "massacre" of Palestinians in Gaza.
According to the Turkish presidency, Erdogan said in a phone call with Pope Francis on Monday that "Palestinians will continue to be subjected to a massacre unless the international community punishes Israel… with sanctions".
The pope's messages were of "great importance to mobilize the Christian world and the international community", the Turkish statement added.
Erdogan further said that "all of humanity should be united against" Israel, adding "The savagery caused by Israel threatens regional security."