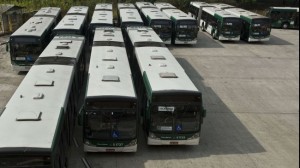 A strike by bus drivers in Brazil has entered its second day, leaving the country's largest city in transport chaos just three weeks before the start of the World Cup.
Bus drivers in Sao Paulo entered their second day of strike on Wednesday, leaving half of the city's bus terminals closed.
The drivers and fare collectors walked off the job on Tuesday, without giving warning. According to reports, some drivers have abandoned their vehicles in the middle of the street, causing traffic jams.
The strike has affected more than 230,000 passengers in Brazil's business hub.
The drivers' strike is aimed at pressuring their union to agree a 19-percent pay increase. The union has already accepted a 10-percent pay rise.
Brazil's police forces also went on strike in 14 states on Wednesday.
Brazil has recently seen a series of protests and strikes for better wages and working conditions ahead of the World Cup and elections scheduled for October.
World Cup security officials have said there are contingency plans in place to deal with any strikes during the tournament.
Critics say the billions being spent on the sports event should be invested in better health, education services, transportation, and housing for Brazilians.
There have already been a number of violent confrontations between protesters and security forces in the country over the past weeks.