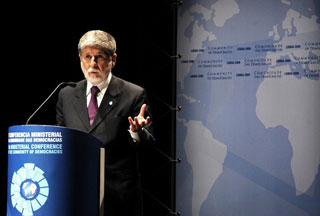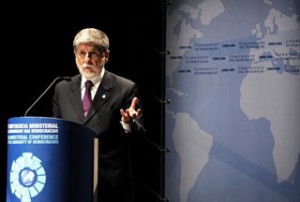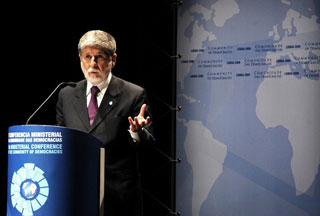 Brazil's Foreign Minister Celso Amorim once again pours cold water on his Israeli counterpart's hopes of antagonizing Iran in the Americas.
As the Israeli foreign minister continued his 10-day tour of South American states in Peru, comments by Amorim confirmed the Iranian ambassador's previous predictions that Lieberman's visit would not affect Iran-Brazil ties.
Iran is "an essential player" in Middle East peace talks, said Brazil's FM, pointing out that one of the reasons that successive peace plans for the region have failed was that "the players have always been the same."
"Involvement of countries that have influence in the region is absolutely essential," said the top Brazilian diplomat during a conference organized by the United Nations in Rio.
Brazil, which is aiming for a permanent seat on the UN Security Council, has offered to play the role of a mediator that has "the confidence" of both parties in Israeli-Palestinian peace talks.
As Lieberman began his South American tour on Wednesday, Tehran's envoy to Brasilia, Mohsen Shaterzadeh, asserted that "a visit by such an individual from an illegitimate regime can never impact the relations of Iran and Brazil."
"At the moment, the Israeli regime is known as a racist government that has the blood of Palestinians on its hands. The regime has even lost its close friends," Shaterzadeh commented.
During his first stop in South America, Lieberman took part in a news conference, where he asked Brasilia to take advantage of its growing ties with Iran to help bring to a halt the country's nuclear activities.
"I believe that Brazil, more than other countries, could try to convince the Iranians to stop their nuclear program," Lieberman said in Brazil.
Foreign Minister Celso Amorim, however, defended Tehran by pointing out that the country had every right to nuclear technology for "exclusively non-military" purposes.
The Brazilian official then took an indirect swipe at Israel — the only Middle Eastern regime with ready-to-launch nuclear warheads.
"Brazil would like all countries to sign the nuclear non-proliferation treaty..[We want] a Middle East free of nuclear weapons," said Amorim, in an apparent reference to Tel Aviv's refusal to join the nuclear Non-Proliferation Treaty (NPT).
Tel Aviv –the only possessor of nuclear arsenal in the region-refuses to heed regional and international concerns over an entirely nuclear-free Middle East.